Drivers praise Abu Dhabi circuit
| | |
| --- | --- |
| By Jonathan Noble and Jamie O'Leary | Friday, October 30th 2009, 17:28 GMT |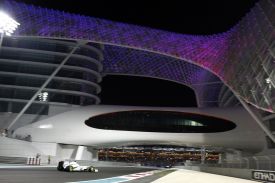 Formula 1's drivers were almost unanimous in their praise of Abu Dhabi's new Yas Marina circuit after the opening day of practice.
With three hours of track time under their belts and the experience of driving in both day and night-time conditions, a high proportion of the 20 drivers were impressed with the Hermann Tilke-designed circuit.
"There is no criticism. I think they have done a very good job," said Williams driver Nico Rosberg. "It is an interesting track and every corner is unique.
"It started off with the track being very dirty and it some time for things to get better, but then, when the track temperature dropped, the times got a lot faster, so I think we dropped our times by five seconds once there was good grip."
Two-time world champion Fernando Alonso echoed Rosbergís sentiments.
"There are some good parts of the track, like the first sector, high-speed corners, and then the last sector is a combination of very similar corners - always 90 degrees. But you enjoy it because there is always something to do on the track. There is no time to breathe," said the Renault driver.
"Maybe the middle sector is a little bit more normal, with two long straights, with two big braking points, and maybe the part of the track that you enjoy less. But overall it has been a good first day."
Force India's Adrian Sutil was particularly praiseworthy of the track's floodlights, which were used as darkness descended during the second session.
"I think it is better than Singapore for sure," he said. "Singapore is too light, it is too bright and you donít have the feeling of a night race.
"Here there is definitely enough light - you really see the track clearly - and it is nice. Driving into the sunset was quite cool with the sun there. It was a good feeling."
The only part of the track to draw mild criticism was the controversial underground section of the pit exit Ė despite the area remaining incident-free throughout Friday's action.
"It is very difficult and a little bit dangerous," said Ferrari driver Giancarlo Fisichella. If there is an accident with two cars, I donít know if there is a space to go through. I guess we will see if there is an incident."