Glock now likely to leave Toyota
| | |
| --- | --- |
| By Jonathan Noble | Friday, October 30th 2009, 09:29 GMT |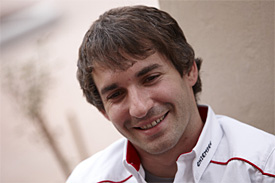 Timo Glock has admitted it is now likely he will leave Toyota at the end of this season, with the German's future now set to be either with Renault or the new Manor outfit.
Although AUTOSPORT understands that Toyota has made him a firm offer for next season, sources suggest that Glock is keener to follow a new path in his career.
He is close to a deal to partner Robert Kubica at Renault, but it is also believed that he has not totally ruled out an option he has at the soon-to-be Virgin-backed Manor team.
Speaking in the Abu Dhabi paddock, Glock said he had no doubts that he would be racing in F1 next year - even though he is adamant nothing is signed for 2010 year.
"100 percent," he said, when asked by AUTOSPORT about how he rated his chances of competing in F1 next year. "We have, let's say, a good conversation with the teams. I am quite positive on that."
He added: "There are a lot of rumours going on at the moment, and we have a couple of good possibilities. And there could be maybe a surprise in the next one or two weeks, where nobody has been thinking in that direction. We will see... The possibilities are there and we just have to sort it out now."
Speaking about whether Toyota remained a possibility for him, Glock hesitated before saying: "It could be, but the chance is a bit lower I would say."
Glock said there were many factors for him to consider – and made it clear he would not rule out the gamble of going with a new team, rather than an established outfit like Renault.
"Everybody says that the new teams are not interesting, but next year everything is possible," he said. "With the new rules, 150-160kg on board, it will be different. When you see the rule changes this year, and the ups and downs during the season, even a smaller team like Force India had the chance to come up to the top five.
"Brawn GP won the championship and Red Bull – there is no real constructor at the moment fighting for the championship. Sure, McLaren-Mercedes-Benz is really, really strong again at the moment, but the point is that it is more equal.
"I think you have to look in every direction because nobody knows what is going on next year. That makes it interesting and you can make the right decision, or you can make the wrong decision.
"It doesn't matter where you go, you never know what is going on next year. Sure the strong teams like McLaren and Ferrari, they will be on the top and fighting at the top, but you have to be open for everything."