Rosberg was not expecting Williams wins
| | |
| --- | --- |
| By Jonathan Noble and Pablo Elizalde | Thursday, October 29th 2009, 11:26 GMT |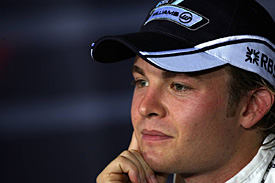 Nico Rosberg says he is leaving Williams because he does not believe the team will be able to fight for victories next season.
"To say it clearly, Williams is a great team," Rosberg said in Abu Dhabi, where he confirmed he will leave Williams after four seasons.
"And there is no reason why they cannot be just as good as this year, next season - which is running quite close to the top.
"But I am not sure they can win races at the moment. With budgets still being rather free, and an engine change coming up which will not help, so I am not sure they can win races at this point of time – although I am convinced that they can do very well.
"But I would like to win races. That is what really encouraged me to push for the next step."
He added: "You never know, but I would like to try and get into a car where I think there is a very good chance of winning."
Rosberg, who has been linked with moves to Brawn and McLaren, did not want to talk about his future plans, but made it clear his situation will not be clear shortly.
"It is going to take some time," he said.
Despite having decided to leave Williams, Rosberg admitted he was pleased with how his 2009 season has panned out.
He said, however, that he was sorry he was unable to be on the podium or fight for victories.
"I would say it has been a good season," Rosberg said. "I would say that the team has given me a good car this season, which has been important for me because it has given me the opportunity to raise my share value, and gave me a great opportunity for next year to have a chance to get a winning car to win races – which is what I would like to do.
"For me it has been a good season, and the team gave me a good car.
"Of course, it was not as good as we wanted it to be, because we wanted to be on the podium winning races, but it was consistent. We always knew what we had. We knew whichever track we went to we would be up there, finishing top five for a series of races, and seventh in the world championship is okay.
"From my point of view, I got the best out of the car this season because I could not have beaten [Lewis] Hamilton or [Kimi] Raikkonen, I don't think there was any way of beating them, so I got the best out of it. So I am quite pleased."