Heidfeld 'pretty certain' of F1 seat
| | |
| --- | --- |
| By Jonathan Noble and Pablo Elizalde | Thursday, October 29th 2009, 11:12 GMT |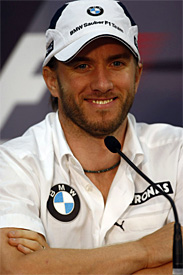 Nick Heidfeld says he is confident he will be in Formula 1 next year, despite not having secured a contract for 2010 yet.
The German driver's future was left facing uncertainty after BMW announced it will leave Formula 1 at the end of the season.
Although the financial future of the team has been secured with a buyout from a Swiss company, the Hinwil-based squad still has no place on the grid for next year, with some teams not willing to expand the grid even further.
Despite that, Heidfeld is "pretty certain" he will have a seat in F1 next season.
"I think it's pretty certain that it's going to be BMW Sauber's last race. I hope Sauber will be here next year, and I'm pretty certain I will be here next year," Heidfeld told reporters in Abu Dhabi.
"Obviously it's special in terms of the emotions."
When asked if he was confident he will be in F1 next year, he said: "Yes. Nothing's signed yet. We are talking to a couple of teams and I won't say more than that."
The BMW Sauber driver admitted it would be a "huge pity" if the team was absent from the championship in 2010.
"Hopefully they will be, because obviously you can't really regard it as a new team. I think Sauber will do a lot better than the other new teams in terms of how they will perform," he added.
"I think that should be more important than having new teams in Formula 1. Obviously is good to bring new teams and more cars, but it would be a huge pity if the team was not there. It would be difficult to understand."
And although Heidfeld concedes the staff is having a tough time, he reckons everybody in the team is still focused on doing a good job.
"I think everybody is able to focus on the job when they have to do it. It's not an easy situation for a lot of the people not knowing what they will do next year, or if Sauber will do next year. But I think it doesn't influence the work they do on track."