Brynildsen set for Scotland drive
| | |
| --- | --- |
| By David Evans | Thursday, October 29th 2009, 11:00 GMT |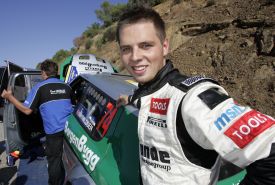 Norwegian driver Eyvind Brynildsen is the latest driver to be lined up for an increasingly competitive Rally of Scotland.
Brynildsen dominated the Production Car World Rally Championship round of Rally GB last week before having his Skoda Fabia S2000 excluded after parts of the brake callipers were found to be too small.
Brynildesn would drive for the Rene Georges Skoda team, the same outfit which ran him on Rally GB and to his Group N win on the Catalunya Rally.
Team spokesman Jack de Keijzer said: "We are in discussions with several drivers about Scotland. Eyvind [Brynildsen] is one of them, as is Guy Wilks. But there are four or five other drivers who want to get in the car for the final round.
"But nothing is confirmed and nothing is signed with these drivers right now. We will have to get a move on, things need to be sorted out really before this weekend - the entries close next week.
"Obviously we would love to have Eyvind back out. What happened in Wales [Rally GB] was very disappointing. It was a cylinder in the brake calliper which was too small and therefore didn't conform with the regulations.
"It was simply a matter of somebody labelling the calliper with the wrong part number. After such a dominant performance from Eyvind, this was not such a good way to end the event."
The one thing de Keijzer could confirm is that factory Skoda driver Jan Kopecky is unlikely to drive on the November 19-21 event.
In the absence of the factory team - Rally of Scotland was never part of its plan for this season – Kopecky was set to drive a private Fabia S2000 on the Stirling-based event. It now appears his only job in Scotland will be to complete the recce for the event, along with his Skoda team-mate Juho Hanninen.
"Jan's drive is not looking good now," said de Keijzer. "He is struggling to find the budget and I would say it is sure he won't drive in Scotland."