Button celebrates with factory staff
| | |
| --- | --- |
| By Jonathan Noble | Thursday, October 22nd 2009, 09:54 GMT |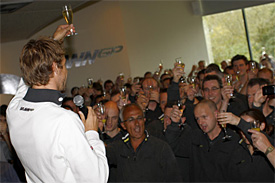 World champion Jenson Button finally got the opportunity to pay tribute to his Brawn GP factory staff on Wednesday, after making an emotional visit to its Brackley headquarters to celebrate the team's double title success.
Button flew back from Brazil on Monday on team-mate Rubens Barrichello's private jet, before appearing at a Virgin Media event at the Bluewater Shopping Centre in Kent a day later.
His first opportunity to visit Brackley came on Wednesday, where he thanked both all those present plus those who had been laid off in the wake of Honda's withdrawal.
"I'm really here today to say a massive well done and thank you to everyone at the team," said a delighted Button, champagne glass in hand. "We've worked so hard for these achievements for so many years.
"Some of us were here from the beginning back in 1998 and I arrived halfway through our journey in 2003 but everyone has put so much work in. I know that there have been a lot of very difficult times and over the winter there were times when we didn't think that we would be here at all.
"It's very sad that not everyone can be here who worked on this fantastic car. But the team had to become smaller to continue and together we produced a car that has been exceptional this season."
Button said for Brawn GP to win both the drivers' and constructors' titles in its first season was an incredible feat.
"To be able to achieve the constructors' and the drivers' championships in our first year, especially after such a difficult winter, is an amazing achievement," he said. "It's been a rollercoaster of emotions.
"The first few races were magnificent. It looked like it was a walk in the park but it really wasn't. Then we had some difficult races, especially myself but also as a team where we struggled. But we fought back hard and when we needed to improve the car, you guys did it.
"Rubens gave us two more wins in Valencia and Monza at an important time to boost our morale and prove just how quick the car was. We have a great leader, a fantastic leader, in Ross. The Big Bear can't be here today but I know that when he gets back, he'll be celebrating with you."
And although Button endured a trouble middle part to the campaign, with his last victory coming at the Turkish Grand Prix, the Briton is sure he is a worthy title winner.
"We proved in Brazil last weekend that we deserve these championships," he said. "We've fought so hard and a championship season is about achieving the results when you need to. We've had some difficult races but we always did the best job that we could.
"So we should raise our glasses as the new Formula 1 world champions of 2009. We've done what we set out to achieve. It really is going to take some time to sink that we are there.
"Celebrating our victories here with you today means so much to me and we are really going to enjoy this moment. Thank you so very much for your amazing contribution to our successes."