Q & A with Lewis Hamilton
| | |
| --- | --- |
| | Thursday, October 22nd 2009, 09:44 GMT |
Conducted and provided by Lewis Hamilton's official website.
Q. The Brazilian Grand Prix was a fantastic event for British motorsport fans. Firstly, how was your race?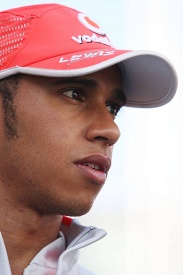 Lewis Hamilton: "I had a fantastic race! It was awesome. I really enjoyed myself out there. I raced my heart out, kept pushing like crazy and got a result I never expected at the end of the day. My car felt fantastic too: I could really push, our strategy was perfect and I was able to make the most of it.
"I think we've actually got a pretty solid car now. I know that Brazil played to our strengths a little, but, still, to come from 17th to third was a very encouraging result for the whole team. The most important thing is that we can keep developing this performance and take it with us into next year."
Q. Any words to Jenson?
LH: "He knows that I've been supporting him all year, and I've seen him and given him my congratulations. I've been saying for months that he'd be a worthy world champion and I think he'll be a great ambassador for our sport. It's great that the title will stay in Great Britain for another year, and I'd like to think that we'll both be up there next year fighting alongside each other to ensure that we keep bringing it back home to home soil.
"We both want to make our country proud, and you couldn't really have asked for Jenson to do any more this season: he's won six races and he's always been in control of himself and been a great asset for the Brawn GP team. He will make a great champion. I'm proud of what he's done - both him and his team – and I think he'll comes to Abu Dhabi with that weight off his shoulders and ready to make a real race of it. It would be fantastic for Britain if we could get a great double result at the last race of the season."
Q. You've now passed on the mantle of world champion to Jenson Button – do you have any advice for him?
LH: "Becoming world champion is a strange and unreal feeling. I heard on Sunday that Jenson kept on saying, "I'm champion, I'm world champion," and I kind of knew exactly what he meant. It's all too much to take in at once – especially in one day. For me, I still don't really think of myself as world champion – of course, when I first saw the number one on my car, it really meant something, and when I arrived at Melbourne for the first race, it also meant something new to me. But I still have the same determination to succeed that I've always had.
"My only advice for Jenson would be to let it slowly sink in, and to enjoy it. Being champion will pull you in directions that you hadn't previously thought about, and it's all about resetting your balance, finding calmness and refocusing for the new challenges ahead. But it's also an incredibly uplifting feeling, a total relief and it brings something special to your life. He'll be a great champion."
Q. Looking back on your year as champion, how would you describe it?
LH: "Well, it's been a fantastic year for me. It's been very tough and demanding at times, but I think I'm actually a very different person now than I was a year ago – and some of that comes directly and indirectly from being world champion. I think this year has helped me to understand and appreciate more the challenge and thrill of Formula 1. I'd like to think I'm a more rounded individual as a result of my season, and I definitely think I'm a better driver.
"In many ways, though, I'm still the same. I'm still a fighter, and I still want to make sure that I keep my family, and my friends and my team close to me. And I'll be fighting to take home a win in Abu Dhabi – that's very important because a victory there will keep us all buzzing for the winter, and that's great for our motivation. And, of course, I'll be bringing the fight to the first race of next year – I'm already looing forward to it. It can't come soon enough."
Q. Any favourite moments?
LH: "Getting the upgrade package at the Nurburgring was a real buzz, but also an incredible relief, because I could finally feel I had a proper racing car underneath me. The first win of the year in Hungary was amazing, because we'd worked so hard for it, and every single person in our team deserved that win. Winning in Singapore was amazing too – such a hard race. I'm really proud to have won there – it's an incredible circuit and a real flagship race for Formula 1.
"Also, racing at Suzuka for the first time was a dream come true for me. And I'm also really proud of my drive in Brazil – I never thought I'd even get in the points let along get on the podium. And I'm encouraged by our progress because I know that it's all feeding in to our development for 2010."