Q & A with Hirvonen and Loeb
| | |
| --- | --- |
| By David Evans | Thursday, October 22nd 2009, 09:13 GMT |
This weekend in Wales Mikko Hirvonen and Sebastien Loeb will go head to head in the most exciting World Rally Championship decider in years, with just one point separating the duo going into the Rally GB.
AUTOSPORT caught up with both drivers after the recce to get their thoughts on the battle ahead and the conditions on the Welsh stages.
Q. How was the recce?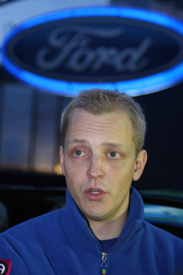 Mikko Hirvonen: It was good. We had no problems. I enjoyed the stages in mid-Wales - especially the first stage [Hafren]. I really like that one; it flows very well.
Q. There's been a bit of rain recently, is that going to help you being first on the road?
MH: Not really. With the surface like it is, we would have needed it to have rained solidly for the last couple of weeks to make a big difference and to turn some of the sections to mud. The road is quite abrasive in places. Because it's been dry, the surface is really hard, so the rain in tending to run off. Okay, it's not going to make it worse, but it's not going to make a big difference.
Q. We had a bit of mist and fog on the recce, you like that don't you?
MH: I don't mind it. I tend to go quite well in those kind of conditions, so maybe it's good for me. That can be where it's good to be first on the road - you have a clean road in front of you with no marks on. When you are in the fog and the mist and you're relying completely on the notes you don't want to see somebody else's marks on the road ahead of you; if you see big marks where they have been braking hard or had a moment, it can be a bit off-putting.
Q. Do you think both you and Sebastien will be at the finish?
MH: I think so, yes. It's going to be a really exciting event now. One point is nothing. It's better like this. Of course, it would be nice if it was eight or nine points, but if it's down to three points or something like that, then you get into the frame of mind of thinking you can finish one place down or not take so many risks or things like that. As it is, we have to be flat out from the start.
Q. How have your preparations been?
MH: Good. I was at home with my family, not thinking about the rally – this is the way I always prepare for the event.
Q. How was the recce?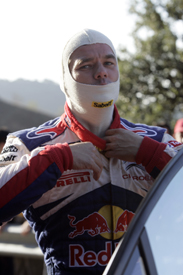 Sebastien Loeb: It was okay. I made a lot of changes to my notes. I took the notes from last year, particularly for the Friday stages, and made changes to them. Because of the snow and ice last year, the notes were not the best, but now I am happy with them. Not only this, but some of the older stages have had some work done to them, so we have had to change our notes because of this as well.
Q. Do you like the stages?
SL: Yes. I like this rally, it's nice. The conditions with the rain and fog can be quite difficult and we saw some of those conditions on the recce yesterday, but okay, the roads – particularly some of those on Friday – are really nice.
Q. With the weather changing and a bit more rain coming, who's in the right place on the road?
SL: I really don't know. If the rain doesn't come, it will clean a little bit, but it's not going to be like Australia used to be or like New Zealand – there's not that much gravel around. It's hard to say when the weather is chaning.
Q. How do you feel about the rally?
SL: I feel well. It's going to be a big fight. I have stopped thinking about what difference the points thing might have made without our penalty in Australia. I like it how it is now – it's so exciting for everybody. If I don't win on Sunday afternoon, I might not be saying the same thing then, but for now it's good.
Q. Will you win on Sunday?
SL: I don't know. One thing is certain, my run of winning championships has to stop, that's sure. I would prefer it if it didn't stop this weekend, though! It's going to be a big fight with Mikko. We know about his speed. He's very fast on virtually all rallies, particularly fast gravel rallies and this is a fast gravel rally. Luckily for me, it's not Finland!