Hamlin: Johnson not that much better
| | |
| --- | --- |
| By Diego Mejia | Thursday, October 22nd 2009, 08:38 GMT |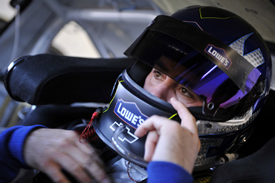 Denny Hamlin reckons that Jimmie Johnson is not such a superior driver as his stats may say, despite his dominant performances in the Chase for the past few years.
Joe Gibbs Racing's lone contender for this year's Sprint Cup title puts Johnson's success more down to the Hendrick Motorsports equipment he drives and the guidance of his crew chief Chad Knaus.
"I don't want what I sound like to be disrespectful to Jimmie, because he is one of the best of our sport for many, many years, and not just in our era, but in past eras," Hamlin said.
"But it's not that Jimmie Johnson's that much better than these drivers out here, especially Jeff Gordon, Tony Stewart. Those guys that have accomplished the highest accomplishments of our sport.
"He's not that many better than them, he's just got every little things working for him. He's got a great crew chief in Chad [Knaus]. He's got great race cars. A tremendous amount of horsepower.
"We run the same lines. There are a few guys - I run a little bit different than Jimmie, but there are a few guys that run the same line as him. Our cars don't accelerate off the corner like his. They don't get into the corner like his.
"And that is what makes the difference. It's those little things that they've gotten figured out is just making him look really, really good.
Hamlin admits however that even if the reigning champion has the best team around him, one of Johnson's strengths is that he rarely makes mistakes, something that has helped him become the dominant force in the Sprint Cup series.
"He obviously does a good job of not making mistakes," Hamlin added. "And that's where I'd put him above everyone is not making mistakes. Obviously letting his car do a lot of work. Taking it easy on the car in the beginning, working on it, working on it.
"When he has to push it in the end, he's got the car there for it. He's got the mindset to win those races and that's what makes him the best."
Hamlin, whose championship aspirations this year are all but over following a crash at Fontana and an engine failure at Charlotte last week, believes his team has some work to do in order to match Johnson and Hendrick Motorsports.
The 28-year-old hopes to win at least one more race this season and expects reliability to improve as he considers that to be one of his team's weaknesses this year.
"Obviously, no one around [Joe Gibbs Racing] is going to be happy with the position we are in points-wise, and Kyle not making the Chase," Hamlin said. "So this is going to be a tough off-season around here.
"There is going to be a lot of hard working done. We're just going to have to plug away at it. Gibbs has done a good job of providing good race cars and cars that can compete for wins through the course of this year. That's all I can ask for.
"The only thing I can ask for is a little bit more reliability."
The Virginia driver finished second in the Spring at Martinsville, a track where his stats rank among the very best and where he hopes to be in the running for victory next weekend.