Loeb says he is driving at his best
| | |
| --- | --- |
| By David Evans | Tuesday, October 20th 2009, 14:00 GMT |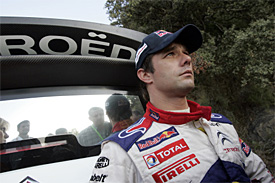 Sebastien Loeb says he is driving as well as he ever has on the eve of this year's World Rally Championship showdown - but he admits Ford man Mikko Hirvonen will be his toughest competitor yet at this week's Rally GB.
This is the first time in seven years that Loeb is not leading the title race going into the final round.
After a scintillating start to the season, scoring five wins from five starts, Loeb lost the lead of the championship on round eight in Poland and has been chasing Hirvonen ever since.
Despite an apparent mid-season loss of form, Loeb has defended his record and his driving ability this year.
Loeb told AUTOSPORT: "I don't think my driving has changed in the last few years. When I won the title in 2004 and 2005, I don't think I was driving as well as I am now. I'm not going any slower than I was last year."
Loeb last lost a championship fight in 2003, when Petter Solberg beat him to the title by one point. Since then, the main focus of his season-long duel was with Marcus Gronholm, until he retired from the sport in 2007. Despite battling with the greats in the sport, Loeb reckons Hirvonen will be his toughest rival yet.
"He doesn't make mistakes," said Loeb. "And he is very, very fast. The second half of the year hasn't been easy and I am very frustrated that, despite my best efforts, I am not in control of my own championship – I am still dependant on Mikko.
"This is not the position I wanted to be in, but it's the way it is. Now we have to see what happens in Wales. Certainly, it's going to be exciting for everybody."
Loeb completed his Rally GB testing near Machynlleth on Sunday.
"The test was good, it went well," he said. "The conditions were dry, with some damp patches on the road. I tried more options with the suspension set-up and other areas of the car, but I have not modified anything from the original test we did in Wales. It was a good chance for me to drive the C4 at high speed just a few days before the start of the event. The car felt very good for me."