Hirvonen: Running order favours Loeb
| | |
| --- | --- |
| By David Evans | Monday, October 19th 2009, 08:38 GMT |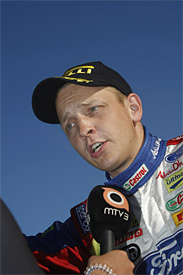 Ford driver Mikko Hirvonen has admitted Sebastien Loeb's position behind him on the road could offer the Frenchman a slight advantage as the pair head into their final-round fight for this year's World Rally Championship on Rally GB this week.
Hirvonen, speaking to AUTOSPORT during the Cambrian Rally on Saturday, said the running order issue was not something which concerned him as his plan was one of maximum attack from the start.
Citroen team principal Olivier Quesnel had stated that the running order favoured his Frenchman over the Finn and Hirvonen said: "He's probably right. Sebastien is going to have a small advantage in knowing what we are doing on the split times. We're going to be well into the stage before we get his first split.
"He'll get our first time after one kilometre, so they are going to have more time to react, but otherwise it's not going to make a big difference. Like I've said, we're going to be flat out, so it doesn't make any difference."
Hirvonen admitted he couldn't be happier with his Ford following an extensive test in Scotland last week - where his team-mate Jari-Matti Latvala tackled 340km in one of his two days - and then the final part of the test on Saturday's Llandudno-based event.
"We've done the same testing as before," said Hirvonen. "This rally was something extra before Rally GB. I'm really happy with the car and the set-up - I couldn't be happier. The Cambrian was just about getting the feeling and confidence in these conditions.
"It was really, really slippery in there - which was really good for me to get in there and know what the car's going to do. I made a couple of changes to soften the dampers to try and get more grip.
"This has certainly helped before the start of Rally GB - it means I go in absolutely ready and not taking a couple of stages to get into it. There's no time for that on Rally GB."