Raikkonen: First lap chaos cost podium
| | |
| --- | --- |
| By Pablo Elizalde | Sunday, October 18th 2009, 19:54 GMT |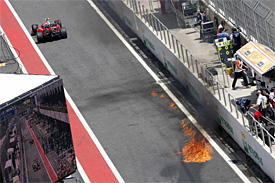 Kimi Raikkonen says his first-lap clash cost him the chance of finishing on the podium at the Brazilian Grand Prix.
Raikkonen had a very troubled start to the race, first making contact with Adrian Sutil and later with Mark Webber when trying to pass the Australian.
The Ferrari man was forced to pit for repairs and was later involved in a bizarre incident with Heikki Kovalainen in the pitlane when the Finn tore off the fuel hose when leaving his pits.
The accident caused a big fire right in front of Raikkonen's car and got fuel into the Finn's eye.
Raikkonen recovered to sixth position, but reckoned a top three finish was possible.
"What happened on the first lap ruined my race," said Raikkonen. "First I was hit at the first corner, then when trying to pass Webber, I was hit and lost the front wing.
"At the pitstop, I ended up with some drops of petrol in my eye, from the fuel line stuck on Kovalainen's car and then I was engulfed in flames and blinded: I was going to stop, but luckily the flames soon went out.
"Even now, my eyes are still burning, but I'm alright. After the restart, I could only try and use the strategy to move up the order and at least I brought home a few points.
"I am disappointed because today I'm sure we could have made it to the podium. There is one race to go: let's see what we can do in Abu Dhabi to get back that third place."
Team-mate Giancarlo Fisichella also endured a difficult first lap after having to avoid the spinning Heikki Kovalainen at the second corner.
The Italian, starting from the back, finished in 11th.
"Obviously, starting from the back row, my race was already compromised," he said. "Then there was also the incident with Kovalainen, who spun in front of me, forcing me onto the grass, which prevented me from trying to make up a few places in the fight on the opening lap.
"We had opted for a one-stop strategy and it was a good one, but in the final part of the race, the soft tyres began to develop a bit of graining and I was not able to match the pace of those ahead of me and I even lost a place. On top of that, the KERS worked in fits and starts.
"Looking at my experience with Ferrari so far, I don't want to hide that I feel a bit upset, as there has not been a single weekend in which everything went to plan. Now we go to Abu Dhabi which will be a new venue for everyone: I will do my very best to help the team retake this third place which slipped away from us today."