Red Bull vows to keep title fight alive
| | |
| --- | --- |
| By Jonathan Noble | Saturday, October 17th 2009, 14:09 GMT |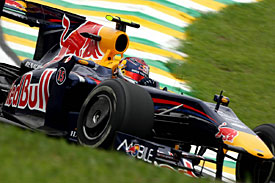 Red Bull Racing has vowed to turn up the aggression on track this weekend as it bids to prevent rivals Brawn GP and Jenson Button clinching the championship in Brazil.

Although Brawn GP and Button need just a handful of points to seal both world titles in the penultimate race of the season, Red Bull Racing boss Christian Horner says his team is going on the attack to try and take the title fight on to Abu Dhabi.

"Confidence is high and we are pushing very hard," Horner told AUTOSPORT. "Our approach to the weekend is going to be more aggressive that Brawns, because they have two drivers competing against each other, and we have got one driver who we can put everything behind. We have absolutely nothing to lose."

Red Bull Racing and Sebastian Vettel are coming off the back of a dominant victory in the Japanese Grand Prix a fortnight ago, and Horner is upbeat that his team can keep up the momentum of its recent upturn in form.

"We have had a great season so far, and we are still in both championships - only just in the constructors' but it is not over until the points say it is impossible," he said.

"We have come off the back of a very strong performance in both Singapore and Suzuka, so we will be looking to carry that momentum throughout this weekend here."

Horner has also said he has no doubts about the important role that Vettel's team-mate Mark Webber has to play this weekend too - as he rubbished any talk the Australian was not interested in doing all he can to help the German.

"They are both team players," he said. "Mark [Webber] is out of contention for the drivers' championship now and he is a great team player, and I am sure he will support the team as best he possibly can."

He added: "The strategy is to win the race with Sebastian and take as many points off the Brawns as we can. So we need Mark right up there, and the initial signs are very good. He is a team player, and he knows the important role that he can play - most importantly by being ahead of the Brawns.

"We have to aim for a 1-2 finish. We have managed it on three occasions so far this year, and we have to try and repeat it here."