Alonso leads second Interlagos practice
| | |
| --- | --- |
| By Simon Strang | Friday, October 16th 2009, 18:31 GMT |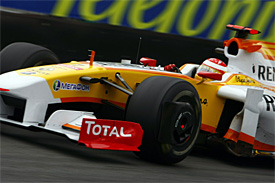 Fernando Alonso denied Sebastien Buemi his moment in the limelight as the Renault driver took the top spot away from the Swiss rookie in the final minutes of the second free practice session for this weekend's Brazilian Grand Prix.
The Renault driver had a quiet session for most of the 90 minutes and his time of 1m12.314s went somewhat against the run of play.
For his part, Buemi made the most of what is clearly a competitive chassis as he came within 0.043s of his first fastest time in a free practice session.
The Swiss was quickest for most of the 90 minutes for the Toro Rosso team, with only world championship leader Jenson Button threatening his position by topping the list mid-session. That is until the Spanish double world champion changed all that.
Button ended the session fifth fastest overall behind team-mate and title rival Rubens Barrichello (third) and Red Bull's Mark Webber (fourth). Jarno Trulli was sixth for Toyota.
Sebastian Vettel took seventh in the second Red Bull in front of Nico Rosberg and Adrian Sutil. Lewis Hamilton completed the top ten.
Indeed, the entire field was covered by less than a second.
Buemi was quick from the outset, taking the top spot from Heikki Kovalainen with a 1m12.796s, before quickly lowering it to a 1m12.710s. Red Bull stablemate Sebastian Vettel had a crack at Buemi's time after 20 minutes, but was four thousandths shy of his time.
Then Button, having previously complained over the radio of having a combination of oversteer and understeer, suddenly went fastest with a 1m12.696s.
Two minutes later Mark Webber went quicker still, only for Button to respond immediately with a 1m12.523s lap.
At half distance it looked as though Button might go fastest in a practice session for the first time since the Spanish Grand Prix in May, only for Buemi to calmly emerge from the pits and take the top spot again with a 1m12.357s.
That seemed to settle the matter as the teams started cracking into their long run programmes. And that combined with a return of the drizzly weather we saw in P1 and Giancarlo Fisichella stalling his Ferrari at the end of the pitlane ensured that nothing much happened until the flurry of activity at the session.
That stirred up the order significantly with all the front-runners except Buemi posting last minute flyers.
The session proved fairly incident free with Vitantonio Liuzzi the only significant spinner at Laranja 20 minutes in.
Pos  Driver       Team                       Time              Laps
 1.  Alonso       Renault               (B)  1:12.314            27
 2.  Buemi        Toro Rosso-Ferrari    (B)  1:12.357  + 0.043   45
 3.  Barrichello  Brawn-Mercedes        (B)  1:12.459  + 0.145   38
 4.  Webber       Red Bull-Renault      (B)  1:12.514  + 0.200   41
 5.  Button       Brawn-Mercedes        (B)  1:12.523  + 0.209   45
 6.  Trulli       Toyota                (B)  1:12.605  + 0.291   37
 7.  Vettel       Red Bull-Renault      (B)  1:12.611  + 0.297   45
 8.  Rosberg      Williams-Toyota       (B)  1:12.633  + 0.319   42
 9.  Sutil        Force India-Mercedes  (B)  1:12.720  + 0.406   35
10.  Hamilton     McLaren-Mercedes      (B)  1:12.749  + 0.435   39
11.  Grosjean     Renault               (B)  1:12.806  + 0.492   27
12.  Kubica       BMW-Sauber            (B)  1:12.862  + 0.548   39
13.  Kobayashi    Toyota                (B)  1:12.869  + 0.555   40
14.  Nakajima     Williams-Toyota       (B)  1:12.929  + 0.615   41
15.  Heidfeld     BMW-Sauber            (B)  1:12.948  + 0.634   38
16.  Liuzzi       Force India-Mercedes  (B)  1:12.950  + 0.636   36
17.  Kovalainen   McLaren-Mercedes      (B)  1:12.992  + 0.678   39
18.  Raikkonen    Ferrari               (B)  1:13.026  + 0.712   42
19.  Alguersuari  Toro Rosso-Ferrari    (B)  1:13.041  + 0.727   40
20.  Fisichella   Ferrari               (B)  1:13.275  + 0.961   38

All Timing Unofficial