Q & A with Robert Kubica
| | |
| --- | --- |
| By Jonathan Noble | Thursday, October 15th 2009, 16:54 GMT |
Q. So are you happy that your future is now clear and sorted?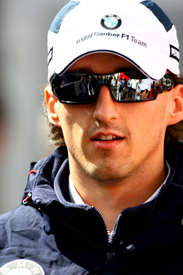 Robert Kubica: Yeah. I am very happy to be part of Renault next year and looking forward to the new challenge for sure. I think it will be a big challenge because in the end there are many things going on at Renault, with difficult times in the last few months, but I believe we can do a good job for next year and in the future, and try to be part of a kind of 'new' team.
Q. What were the factors that made you choose Renault over Toyota or BMW?
RK: There were many. In the decision you are trying to evaluate many factors and get as much information as you can have. One of the most important was that in the end, Renault has won world championships a few years ago so they know what it takes to win, and also the way they are thinking about racing, their mentality, I like it a lot. This is what I was looking for. I am very happy.
Q. Was it a clear straightforward decision, or was there a lot of debate about what to do?
RK: You know, as I said, Renault has had a difficult few past months. So there were some unsettled moments for me about the future, but once they decided to continue I believe they are looking forward to be back on top. Once I was sure that the future is guaranteed for the team, then the decision was quite easy.
Q. Have you spoken to Fernando about the decision?
RK: Not really. Not lately.
Q. Was potentially being a free agent for 2011 important for you too?
RK: I never said that I will be free for 2011, so I don't know where it is coming from.
Q. So you are locked in at Renault longer than just next year?
RK: I don't know! Maybe yes, maybe not. I never talked about contracts in F1, so I will keep it quiet for myself.
Q. Are you interested in what is happening about the new boss at Renault. Are you talking to the team about the plans?
RK: Well, to be honest, I am still a BMW driver and I have two races to go. I believe that whoever is taking the decision has enough experience and they know how to do their job. I am a racing driver. I will be very happy to help develop the car and maybe to make some suggestions about what I think about next year's regulations from the driver point of view. But on the management side and boss side, it is not my job. But I have 100 percent belief and I am convinced that who is taking the decision will take the right decision.
Q. Would you rather have a strong team-mate next year?
RK: I think there are a few names who are quite experienced that Renault is looking at for next year. I will not try to have any influence on my team-mate for next year. To be honest, I will welcome all these drivers whose names I have heard. I think all of them can do a good job. I have my personal preferences but this is only because of private personal relationships, but, as I said, I will not have any influence and I will leave it to the people who are deciding.
Q. Will the team consult you on that decision?
RK: I know some names that Renault is taking into consideration. I will be happy to welcome each of these names. The team and myself are looking for a strong driver to have a good team, and I hope Renault will choose the best one.
Q. Who is your personal preference?
RK: I keep that for myself. I will tell you once he is chosen whether it is him or not.
Q. With BMW not continuing in F1, will you get permission to start working with Renault as soon as the current season is finished?
RK: This year is very limited the driver's job because in the end you have no testing. Of course the situation would look differently if there were tests, but I think it depends what job you are thinking about.
Q. Like going to the factory, working with the engineers...
RK: I think BMW will have nothing against it. In the end, they are not any more in F1 so I don't think it will be a problem. I would be surprised if there was a problem.
Q. The last two years have been a bit of a struggle for Renault. What did they say to you to convince you to join them?
RK: Out of the few teams I was talking to, the words they were saying were all the same - because they are trying to convince. To be honest, they didn't have to convince me because in the end nobody can have a guarantee of how the car will be performing next year or in the future. It is more a feeling and your personal opinion on the team. Of course they can give you some technical guarantees on the key people and things like this, but I was very happy about meeting with the engineers, with Bob Bell, and I think they didn't really have to convince me. We had a nice chat and I liked the way they looked in the past and for the future.
Q. Do you take away from BMW Sauber just the happy memories, like of your win, or frustrations that maybe the title could have been there last year?
RK: Last year is quite a difficult topic, and I still believe we could have handled it better. Unfortunately we missed the chance. It was not that we missed it in the last two races. The whole process started much earlier, with no development really. We struggled with development and there were not really a lot of new parts that were giving what we were expecting. So we lost ground to the top teams much earlier than only the last races. This year, is I think a big disappointment for everybody, but that is how it is. Next year I hope that we will have a much better season and we will work hard to improve every race and every moment.
Q. Are you concerned about the future of BMW Sauber?
RK: Yeah, for sure, it is not an easy situation for all the guys here who are working with me and will still work with me at the next two races at BMW Sauber. I think they have everything, and once they have the investors they have really everything to be part of F1. Still now, they are not on the grid so I think it is a very delicate moment and delicate time for them. It is a difficult situation. I hope they will be on the grid because there is a lot of passion and a lot of people enjoy coming to the races because of F1, not because of nice hotels and seeing different cities. I don't have enough information. What I can say is they look quite confident but I don't have enough information. I think Mario [Theissen] is a better person to ask.
Q. Now that we've had the first full season with the package of rules, how do you sum it up? Do you feel good about them?
RK: It depends. For sure F1 now is very competitive. All teams are very close together as they have never been before. In the past, if you were three tenths off the fastest car, or you were finishing eight seconds behind the race winner, then most probably you would finish second. There were races where I finished, I think in Spa, eight or nine seconds behind the winner and I was fourth. I think in Suzuka in free practice there were 15 cars within half a second – and that is a track like Suzuka. I don't know how big an influence the rules did have, but for sure it was big – and I think it is better.
It is much more difficult for the drivers and the teams – it is really difficult because to extract always the maximum and not to do any mistakes – and it is also difficult to predict where you will be. I think that is why you can see, especially this year, some cars are very quick on one track and then they go to another track and are out in Q2. These are cars that were starting on the front row at the race before. So, there are so many factors that have a big influence on car performance, on the driver and everything – it is mixing a lot the grid this year. It is positive, for the fans, and much more difficult for the teams and drivers – but even more fun.
What I honestly don't like is this wide front wing, where we have seen a lot of damages, a lot of wings going off in the first corner and the first lap. This is not good for overtaking. It is not good for the show, but that is how it is.
Q. And a bit weird do you not think that the man who is likely to win the championship did so in the first seven races?
RK: Yeah. But, you know, in the first five or six races, Brawn had a bigger advantage over every other team – especially in the first three races. But nevertheless, Jenson used it as best as possible. He created a big gap which I think will be enough to win the championship, but of course lately he is struggling a bit compared to his team-mate. But I am driving a different car, I am not in his team, so it is difficult for me to judge.
Q. Had you known earlier that BMW was going to quit F1, would that have changed your plans for finding a race seat in 2010?
RK: I think it might be that there will be some more chances, but I am happy where I end up. I am happy where I end up, because at Renault I had contacts with them for quite a long time – not just this year – to join the team. So it looks like the team believed I can do a good job, and I like the way they are approaching racing. Still, in the last 10 years, only three teams has won the championship and Renault is one. So I think I end up in good hands, I hope so at least.
Q. Considering it is one of the three winning teams for the last 10 years, why did you sign a contract for one year?
RK: Who said I signed a contract for one year?
Q. The team only announced an agreement for 2010…
RK: It was the same with BMW. And I was here.
Q. So it is not a one-year contract?
RK: No.
Q. Do you believe like Felipe Massa that Fernando Alonso knew about what took place in Singapore 2008?
RK: I don't want to enter into this subject. I think everybody can draw their opinion, but unless you don't have the facts it is better to keep your opinion to yourself. This is my way of seeing it, of thinking.