Barrichello: Last year tougher than '09
| | |
| --- | --- |
| By Jonathan Noble and Matt Beer | Thursday, October 15th 2009, 15:45 GMT |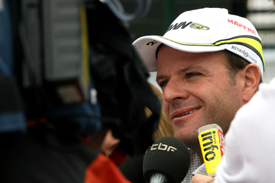 Rubens Barrichello says fighting for the title into the final races this year while still negotiating for a 2010 drive is less stressful than reaching the end of 2008 with a totally uncertain future.
The Brazilian admitted this week that he was in talks with both Williams - which he has been strongly tipped to join - and current team Brawn GP, but had yet to conclude a deal with either for next year.
He denied that this was a distraction from his fight with Jenson Button and Sebastian Vettel for the world championship, and said it was far tougher to focus on racing twelve months ago when he knew Honda was considering dropping him in favour of Bruno Senna or Lucas di Grassi.
"It was a distraction last year when I got here and had no job, that was a distraction because it was a tough thing going in, not knowing if I could come back," said Barrichello.
"So to be able to talk to teams and to see myself in a competitive car next year is all I wish. My focus has been a long time on this season and in a way I am so proud that after the race in Silverstone I turned things around a bit and was able to get a lot of speed out of car, with the car working for me as well [as for Button].
"I am fine. It is no distraction. It was a distraction last year [wondering] if it was my last race or not. I didn't know, but things were tougher than they seemed to be."
He also reckons the expectations of his home crowd at Interlagos are now a positive factor rather than a source of pressure.
"It's been a long road - coming to Brazil at the beginning [of my career and] feeling the pressure, but learning how to deal with it and then changing to get that positive energy, using it to your advantage," said Barrichello.
"I feel so great to be here, for me it is a winning year already because I put my hands up to thank the guys for the car I have and the wins I've had and the chance to win in Brazil/
"Hopefully the car will be back to the performance that we wish. The second part of the season has been a little tough with the Red Bulls and other cars going quite fast, hopefully here I can go for the win because I need it and want it so badly."