Massa feels like old self after F1 test
| | |
| --- | --- |
| By Michele Lostia and Pablo Elizalde | Monday, October 12th 2009, 13:57 GMT |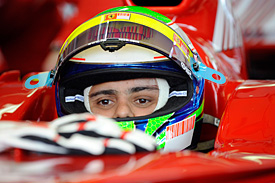 Felipe Massa says he is the same driver he was before his dramatic accident at the Hungarian Grand Prix after testing a Formula 1 car again on Monday.
The Brazilian, sidelined from the sport since he fractured his skull in Hungary, returned to the wheel of a grand prix car at the Fiorano circuit, where he tested a two-year-old F2007 car fitted with GP2 tyres.
Although he didn't complete many laps, Massa said he felt as if the accident had not happened.
"When I was inside the car it was as if nothing had happened: I'm the same bastard as before," Massa was quoted as saying by the ANSA news agency.
"Everything went well, I felt very good physically, it felt like the crash from 25 July had never occurred. I haven't had any eyesight problem and today I'd be ready to do not just one, but two races in a row.
"Obviously we need to respect the doctors' limitation as a precaution, but after getting in the car, I can say I'm back to what I was before the crash."
The Brazilian insisted he is not thinking of racing again this year, and will instead start focusing on 2010.
"[We can] start preparing for next year, which won't be an easy year because this one has been hard, and work to have a good car and fight for the championship," he added.
The Ferrari driver also welcomed Fernando Alonso's arrival at the Italian squad, although he made it clear he is not expecting to be best friends with the Spaniard.
"Alonso is a good professional," Massa added. "So I don't see why there should be any problem with him. He isn't coming here to become my best friend, what's important is the professional relationship."
Massa admitted he was still furious about the result of last year's Singapore Grand Prix, where he reckons the race-fixing scandal robbed him of the title he lost by a single point.
"I'm still very angry, because what happened then didn't change just a race, but the entire championship. The winner of that race is still Alonso, Briatore has gone home, while nothing has changed regarding what they stole away from us. I'm very sorry about it, because the result of the championship could have been different."