Logano wins chaotic Nationwide race
| | |
| --- | --- |
| By Diego Mejia | Sunday, October 11th 2009, 00:32 GMT |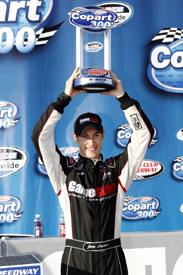 Joey Logano claimed his fifth NASCAR Nationwide Series win of the season, while Carl Edwards cut Kyle Busch's lead in the championship with a third-place finish, in a chaotic Copart 300 at Fontana.
Logano had led the race from pole position until being overtaken by Busch on the third lap, but he later regained the lead after Busch jumped out of the car feeling ill.
However he was pushed against the wall later on by Greg Biffle and dropped down the order with some damage to the right side of his car.
The 19-year-old came back from being out of the top 20 halfway through, to take a victory that had looked out of reach. Some of the fastest cars of the day hit trouble in the closing stages and Logano made the most of it to win for the second week in a row in NASCAR's second-tier series.
"I didn't think we had a shot at [victory] after Biffle decided to put us in the wall," said Logano. "Apparently that was the only way he thought he can beat us, but you can't put this team down.
"We never quit, kept digging all day. That was just amazing. It's fun to race. That is the most fun race I've ever had in my life. I went to the point 'I don't have a shot at this,' trying to salvage a top ten out of it, to bring it home ahead of everyone."
Points leader Busch had looked in control in the early laps after passing Logano, but on lap 40 he pitted from the lead under the first caution of the day. As he was feeling unwell with flu-like symptoms, his team had Denny Hamlin ready to take over the car, which he actually did on that first caution.
"It was just temperature," said Busch after handing his car over to Hamlin. "When I get in the car, and I get hot, I start not being able to see exactly straight."
Hamlin restarted from 24th place and in a matter of eight laps he was already inside the top ten. On lap 107 he put the #18 car back in the lead after beating Brad Keselowski during the fourth restart of the race, following a caution for debris.
Further cautions made the battle for the lead a tight one between him and Keselowski, reviving a tense rivalry after a couple of exchanges both on and off the track between the two a couple of weeks ago at Dover.
With 15 laps remaining, the green flag waved for the eighth time and Keselowski initially grabbed the lead, but Hamlin reclaimed it out of Turn 2. Although the Gibbs driver was able to pull away, Keselowski closed back in on him, but the battle for victory eventually became a three-way one, as Biffle started to put the pressure on Keselowski.
Only 11 laps from the chequered flag, Keselowski went down the inside of Hamlin at Turn 3, while Biffle was on the outside of both. Keselowski and Hamlin started sliding up the banking, until Hamlin closed the door on Biffle, both making contact and hitting the wall, while Keselowski was able to stay out of harm's way to retake the lead.
"We were running right in the middle right there, and I throttled up off the corner, and the #88 [Keselowski], I guess, was having a push, and he was coming into my left rear," said Hamlin about the incident, which forced him to retire from the race and credit Kyle Busch with a poor 31st place finish.
"I was looking in my left-side mirror, making sure he didn't get into us, and I was keeping my foot on the gas, and the #16 [Biffle] got a big run evidently and got up high on us. He was there, we came up. If I hold my line low, the #88 ends up wrecking us anyway off the corner, so either way, it was going to be a bad situation."
On the following restart Logano jumped from third to first, taking advantage of a fresher set of tyres, as he pitted during the sixth caution of the day, later than when the previous leaders pitted for the last time. However the caution came out again, for a spinning Scott Speed, only two laps before the scheduled finish.
The final shoot-out came on the green-white-chequered sprint, where Logano was able to stay up front as Edwards got hit by Keselowski after the Roush Fenway driver got too much wheelspin off the line during the restart.
Without any of his main rivals, Logano went on to take victory, which came as some consolation to Joe Gibbs Racing after Hamlin's crash, one that caused Busch to lose ground in the points race.
Brian Vickers finished second driving for Braun Racing, while Carl Edwards had a great day in terms of his championship hopes, as he cut a big slice off Busch's lead in the standings, leaving Fontana 155 behind the Gibbs driver.
"I guess my foot is feeling better," said Edwards, who has been walking without crutches for the first time since his frisbee incident a few weeks ago. "I think I pushed the throttle a little too hard there. I wanted to win this race.
"We had one of the best cars we've had in a long time. There at the end I spun the tyres. I was battling Joey and Brian, they both had a little fresher tyres and I just kept too aggressive on the restart. Still came home third, a great points day."
Kevin Harvick finished fourth, while Keselowski's final restart put him down to fifth in the end, losing him ground to Edwards in the championship.
Pos  Driver             Car        Laps
 1.  Joey Logano        Toyota     152
 2.  Brian Vickers      Toyota     152
 3.  Carl Edwards       Ford       152
 4.  Kevin Harvick      Chevrolet  152
 5.  Brad Keselowski    Chevrolet  152
 6.  Michael Annett     Toyota     152
 7.  Brendan Gaughan    Chevrolet  152
 8.  David Gilliland    Chevrolet  152
 9.  David Ragan        Ford       152
10.  Jason Keller       Ford       152
11.  Paul Menard        Ford       152
12.  Jeremy Clements    Chevrolet  152
13.  Mike Bliss         Dodge      152
14.  Greg Biffle        Ford       152
15.  Mike Wallace       Chevrolet  152
16.  Justin Allgaier    Dodge      152
17.  John Wes Townley   Ford       152
18.  Kevin Conway       Chevrolet  152
19.  Trevor Bayne       Toyota     152
20.  Tony Raines        Chevrolet  152
21.  Scott Wimmer       Chevrolet  152
22.  Clint Bowyer       Chevrolet  152
23.  Steve Wallace      Chevrolet  152
24.  Kenny Wallace      Chevrolet  152
25.  John Borneman III  Ford       152
26.  Matt Carter        Ford       152
27.  Scott Speed        Toyota     152
28.  Eric McClure       Ford       152
29.  Jason Leffler      Toyota     148
30.  Kyle Busch         Toyota     141
31.  Michael McDowell   Dodge      124
32.  Morgan Shepherd    Chevrolet  101
33.  Danny O'Quinn Jr   Chevrolet  44
34.  Mark Green         Chevrolet  42
35.  Dennis Setzer      Dodge      40
36.  Joe Nemechek       Chevrolet  31
37.  Kevin Hamlin       Chevrolet  9
38.  Derrike Cope       Dodge      7
39.  Kevin Lepage       Dodge      6
40.  Terry Cook         Chevrolet  5
41.  Johnny Chapman     Chevrolet  4
42.  Chase Miller       Toyota     3


Subscribe to Premier Sports TV to watch all Sprint Cup events live in the UK. Visit www.premiersports.tv for more information.