De Ferran takes pole for farewell race
| | |
| --- | --- |
| By Matt Beer | Friday, October 9th 2009, 23:02 GMT |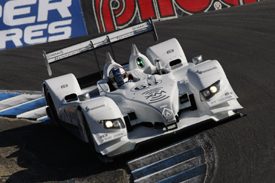 Gil de Ferran marked his final qualifying session as a professional racing driver by taking pole position for the American Le Mans Series finale at Laguna Seca.
The Brazilian is set to retire from competition for the second time at the end of this weekend's event. He starting his farewell meeting in stye by holding off a huge challenge from Highcroft Acura's David Brabham to secure pole by 0.092 seconds.
De Ferran and team-mate Simon Pagenaud still have a chance of beating Brabham and Scott Sharp to the LMP1 championship, provided the De Ferran car wins and Highcroft retires.
Brabham edged ever closer to de Ferran near the end of the session, and as he came out again for an extra run to defend his pole, de Ferran damaged the underside of his car with a rough trip over a kerb and off the course. But despite his best efforts, Brabham could not quite beat the De Ferran car's 1m11.206s benchmark and had to settle for second.
In what could be the team's last ever race weekend, Luis Diaz put the LMP2 Fernandez Acura in the thick of the overall pole fight. The Mexican held provisional pole at first, and even when the LMP1 Acuras moved ahead, they only beat Diaz's time by 0.104s.
The #16 Dyson Lola-Mazda sat out qualifying again as the team continues to use it to evaluate bio-butanol fuel, but the sister #20 car joined Fernandez on row two.
In GT2, Jan Magnussen emerged with pole for Corvette after an intense battle with Risi Ferrari driver Pierre Kaffer. The German and co-driver Jaime Melo need a class victory to beat Flying Lizard Porsche's Jorg Bergmeister and Patrick Long to the GT2 title - but even if they win they require their rivals to finish outside the top ten.
Bergmeister put the points leading car fifth in class in qualifying, behind the second Corvette and the Farnbacher Loles Porsche.
                    
Pos  Drivers                      Cl   Car             Time
 1.  De Ferran/Pagenaud           P1   Acura           1m11.206s
 2.  Brabham/Sharp                P1   Acura           1m11.298s
 3.  Fernandez/Diaz               P2   Acura           1m11.310s
 4.  Leitzinger/Franchitti        P2   Lola-Mazda      1m12.051s
 5.  Drayson/Cocker               P1   Lola            1m12.745s
 6.  Mowlem/Johansson             P1   Ginetta-Zytek   1m13.238s
 7.  Pickett/Graf                 P2   Porsche         1m14.492s
 8.  Field/Field                  P1   Lola            1m14.661s
 9.  Burgess/McMurry/Willman      P1   Lola            1m15.861s
10.  Magnussen/O'Connell          GT2  Corvette        1m23.053s
11.  Melo/Kaffer                  GT2  Ferrari         1m23.220s
12.  Beretta/Gavin                GT2  Corvette        1m23.283s
13.  Henzler/Ehret                GT2  Porsche         1m23.347s
14.  Bergmeister/Long             GT2  Porsche         1m23.391s
15.  Hand/Auberlen                GT2  BMW             1m23.552s
16.  Farnbacher/James             GT2  Panoz           1m23.640s
17.  Muller/Milner                GT2  BMW             1m23.745s
18.  Sutherland/Drissi/Gigliotti  GT2  Riley Corvette  1m23.991s
19.  Murry/Robertson/Robertson    GT2  Doran Ford      1m23.993s
20.  Westbrook/Stuck/Arnold       GT2  Porsche         1m24.307s
21.  Sellers/Cicero               GT2  Porsche         1m25.455s
22.  Neiman/van Overbeek          GT2  Porsche         1m28.798s
23.  Baker/Cosmo                  Ch   Porsche         1m29.546s
24.  Curtis/Sofronas              Ch   Porsche         1m29.755s
25.  Rodriguez/Bieker             Ch   Porsche         1m29.844s
26.  Hoaglund/Faieta              Ch   Porsche         1m29.887s
27.  Lewis/Pagerey                Ch   Porsche         1m29.916s
28.  Snow/Snow                    Ch   Porsche         1m30.147s
29.  Brown/Sweedler               Ch   Porsche         1m30.481s
30.  Parker/Pickering             Ch   Porsche         1m31.509s