Senna convinced he'll be in F1 next year
| | |
| --- | --- |
| By Jonathan Noble and Pablo Elizalde | Thursday, October 8th 2009, 09:54 GMT |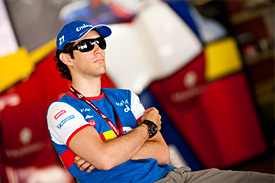 Bruno Senna is confident he will be racing in Formula 1 next season after missing out on a deal to race with the Brawn team in 2009.
Last year's GP2 runner-up came very close to a deal with the former Honda team, but in the end the Brackley-based squad decided to retain Rubens Barrichello alongside Jenson Button.
Senna, the nephew of three-time world champion Ayrton, has spent the season racing in the Le Mans Series as he continued working towards an F1 deal for 2010.
And the Brazilian, speaking to reporters at the new Abu Dhabi circuit, said he is now almost sure he will be on the grid next year.
"Pretty high, in the 90s [per cent]," Senna said about his chances of being in F1 next year. "I'm happy about it. It's been a very tough year. Sometimes I found myself feeling a bit far away from F1. But we were slowly trying to get back into it.
"Obviously the beginning of the year was very tough because people were only talking about double diffusers and regulations, so it's been really hard to actually have good contact with the teams, because they have been really having some difficult worries about other things other than drivers.
"But eventually you get in touch, see what the real options were, and we focused on these options and here we are, quite close to getting a deal."
He added: "It's looking pretty good actually. We have some good offers on the table, and this is what we needed really. I think Formula 1 is in a tough moment, with many drivers on the market and that doesn't make it easy for drivers outside of Formula 1 to get it. But luckily with the new teams there are more slots. It's getting close."
When asked when he was hoping to be able to announce something, he said: "I really hope by Interlagos."
Senna admitted it was tough to be so close to the deal last year and eventually don't get it.
"It was frustrating not to get the drive, especially because I was quite close to it, but that's motor racing, you have to learn how to deal with difficult times and there are plenty of them in your career," he said.
"I just kept my head up and just try to work on another deal for 2010, and that's what we are doing."
Despite that, the Brazilian reckons the Le Mans Series experience will be useful for Formula 1 next year, especially as refuelling will be banned.
"I did the Le Mans Series with good success: in three races I got two podiums, which is not bad for a rookie year. I was really trying to get some different experience and it actually counted very much. Now I know how to save fuel, save tyres, and it's going to be important for next year.
"Fuel consumption is going to be an issue and for sure it's a good preparation. But the best preparation would be to be in Formula 1 definitely."
Senna revealed he was in talks with two of Formula 1's new teams, but admitted he would prefer to race with an outfit with F1 experiences.
"Campos and Virgin [Manor] are top of the list I think of the new teams. So we are talking to them, but it's still a bit early to say anything," he said.
"If the proposal is right, I would prefer to be in a team that's currently there. It's a much less risky option. There are many variables in a new team coming into Formula 1, but in any case I need to be able to trust the team can do a good job and show my potential next year."
He also said the Force India team was also a possibility.
"We are still talking to them, but we have to wait and see. They have quite a few situations, so they need to sort their lives out because we can negotiate that."
Senna will return to single-seater action today at Jerez, where he joins the iSport GP2 team to help with development, a test he also says will help him re-acclimatise himself to open-wheel cars.
"First, I need to get back into single-seaters. I haven't driven a single-seater since November last year and that's a long time. And secondly, iSport wanted me to go there and help with development.
"They were a bit off the pace this year and they want to know if it's car bound or driver bound, and I hope I can prove that it was driver bound."