Meira testing Truck to assist Piquet
| | |
| --- | --- |
| By Matt Beer | Wednesday, October 7th 2009, 09:41 GMT |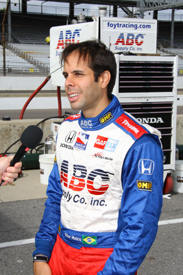 Vitor Meira says he will remain in the IndyCar Series next year despite joining Nelson Piquet for a NASCAR Truck test next week.
Piquet and Meira will try a Red Horse Racing Toyota Tundra at Rockingham on Monday, and the team suggested that both Brazilians were using the test to evaluate a NASCAR future.
But Meira insists he is only participating to help Piquet, and that he will continue to race for AJ Foyt's IndyCar team in 2010.
"The opportunity to test a truck along with Nelson Piquet Jr came up and it sounded like fun," said Meira.
"I thought I might be able to give Nelson some pointers on running an oval because this will be his first time on an oval track.
"Before I agreed to do it, I asked both AJ and Larry Foyt about it, and they gave their permission. It doesn't mean I'm looking to go NASCAR racing now because my priority is racing with AJ's team in the IndyCar Series."
Meira has recently been cleared to race again after sustaining two broken vertebrae in a crash at the Indianapolis 500, and has already been confirmed with Foyt for 2010.
"I plan to run in the IndyCar Series as long as it possible to do so," he said. "I love racing the Indycars and I hope to do it for as long as I am able.
"I've really enjoyed working with AJ, Larry, our sponsor ABC Supply and Honda Racing this year and I want to continue to work with them as long as they want me. And we have some unfinished business at Indy."