Alguersuari buoyed by Japan showing
| | |
| --- | --- |
| By Jonathan Noble and Pablo Elizalde | Monday, October 5th 2009, 11:03 GMT |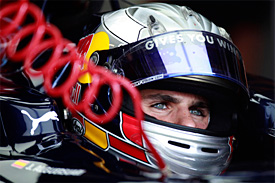 Formula 1 rookie Jaime Alguersuari says he felt he has raised his game following a breakthrough performance at the Japanese Grand Prix.
The Spaniard qualified in a career-best 15th position and was racing strongly until he lost control of his car at the 130R corner and crashed against the barriers on lap 43.
Despite his crash, the Toro Rosso driver was delighted with his performance at Suzuka, as he reckons it was a dream race until the accident.
"Really happy and also a little bit disappointed because it is not nice to finish a race crashing," Alguersuari told reporters in Japan.
"But I think really today was very tough race; it was hard to make a better race than what I did.
"Today, I think it was my dream race - the race that I was dreaming all year, which I thought I could never make this year.
"Really, I saw it was possible, and I felt today that it was my real first day in Formula 1. I had the pace, everything was found more easy on the car, I was more comfortable, and I was driving in another way.
"I felt a bit improvement just from me. Obviously the car is much faster, but at least from me it is good. I was really happy."
The Spaniard, who had also crashed heavily in qualifying, admitted he was impressed with the safety of Formula 1 cars.
"I was really impressed this weekend how these cars are safe and secure. I am really impressed," he said. "I hope not to crash any more but you know, I think it is something you want - you are pushing for it, I had new tyres on, there were nine laps to go and I was pushing until the end.
"It was the first day I felt F1 in my blood, because I pushed from the first lap to the end. So I am happy for that, with no mistakes and no silly things."