Kovalainen says Sutil to blame for crash
| | |
| --- | --- |
| By Edd Straw | Sunday, October 4th 2009, 09:22 GMT |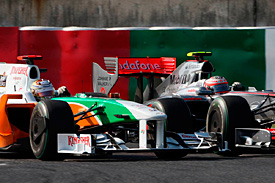 Heikki Kovalainen has blamed Adrian Sutil for causing the collision that cost both potential points finishes in the Japanese Grand Prix.
Sutil attempted to pass the Finn for eighth at the chicane on lap 14, but the pair made contact as they approached the second apex, spinning the Force India driver and delaying Kovalainen.
The German blamed Kovalainen for the incident, saying: "I got past him at the chicane but then he cut back across," but the McLaren driver was adamant that he was not left enough room.
"Adrian tried to make a move, but only went halfway," said Kovalainen. "So I was able to stay beside him.
"When he tried to turn in, I was already on the kerb and I had no more room to avoid him. So I had to lean on him and that was more a problem for him."
Kovalainen, whose McLaren future remains uncertain, added that he was pushing hard through the race, and that he was able to use KERS boost to pass the Ferrari of Giancarlo Fisichella as the pair emerged from the pits after their second stops.
"I'm absolutely on the limit of my car and we're still lacking grip in the high-speed corners, so it's not possible for me to attack any harder," said Kovalainen. "I pushed from the start to the finish.
"My second pitstop wasn't fantastic as we had a problem with the right front wheel, so Giancarlo was able to get out right in front of me. I was able to release the pitlane speed-limiter earlier and immediately got on KERS. He gave me some room, so it was quite an easy move - nothing too dramatic."