Vettel refuses to give up on title dream
| | |
| --- | --- |
| By Simon Strang and Pablo Elizalde | Sunday, October 4th 2009, 09:14 GMT |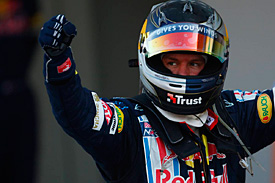 Sebastian Vettel is refusing to give up on his title hopes following his dominant win at the Japanese Grand Prix.
Vettel was 25 points behind Jenson Button before the Suzuka race, but left Japan 16 points adrift after dominating the race from start to finish.
It was his third win of the season and the fourth of his career.
The Red Bull driver will now need to outscore Button by seven points at the Brazilian Grand Prix in order to take the title battle down to the wire in Abu Dhabi.
Vettel admitted he approached the Suzuka weekend knowing it was all or nothing, and is still adamant that anything is possible in the two remaining races.
"Well, to be honest I think it was pretty straightforward," Vettel told BBC Sport. "Win here or that's it. So you know I mean we took all risk and maximum attack and in the end it all paid off. Obviously now looking at the championship it looks better, still it is a big gap.
"But we have seen, especially two years ago, anything can happen and anything is possible still. I think we have to exactly the same in the next two races and then you know we will see what the others are doing.
"I never stopped [dreaming about the title]. I said before it is a great honour and a great pleasure to drive these cars many times in the season on a Sunday, especially when the weather is nice like today.
"But the most important is the challenge, we want to find out who is the best and the best over a whole season. The ultimate target is to win the championship, that is why I am here and I think why we are doing this."
Vettel conceded today's result, with Button down in eighth, was crucial for his title hopes.
"It's definitely important and in the end every win is nice," Vettel said. "It was a great day today, a bit tight at the start, not knowing what to expect running down to Turn 1, looking to the right, looking at Jarno, looking to the left, in the mirror seeing Lewis.
"I was kind of in the middle, approaching Turn 1 and quickly I realised that Jarno was about the same, and obviously Lewis at some point starts pressing his button. I had the inside, and therefore the advantage for the first two corners but still he came quite close on the outside.
"After Turn 2 I realised I was ahead and then head down and try to push every single lap to increase the gap, and try to control the race from then onwards."