Rosberg downplays safety car incident
| | |
| --- | --- |
| By Simon Strang and Edd Straw | Sunday, October 4th 2009, 07:34 GMT |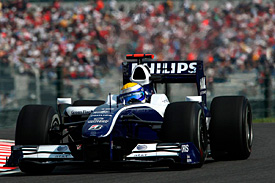 Nico Rosberg is adamant that he gained no advantage when he pitted under the safety car despite accusations that he went faster than the minimum sector time drivers must adhere to when the race is under caution.
The Williams driver finished fifth after making his final pitstop in the safety car period triggered by Jaime Alguersuari's crash at 130R, leading to Jenson Button, who was hoping to leapfrog the German, claiming that he had gained as much as four seconds.
But Rosberg insists that he did not speed under the safety car and is confident that he will not be hit with a 25-second penalty that would drop him to 15th place and hand Brawn the extra points it needs to clinch the Constructors' Championship.
"What I can say is that for sure I didn't gain an advantage," Rosberg told BBC Sport. "We analysed everything and we didn't gain an advantage, so we need to see. They still want to analyse it, but it should be fine.
"They are up there [in the stewards' room] discussing at the moment, so that's all I can say for now. But what they [Button] say is incorrect for sure."
Rosberg claims that he was not faster than the lap delta issued to drivers for each sector, meaning that he should not get a penalty.
"When the safety car comes out we have a lap delta, that comes into our steering wheel and we have to drive to that," said Rosberg. "There is a line just at the beginning of the pit entry and to ensure that we go slowly all the way back to the pits, slowly past the accident, we have to be exactly spot on for that minimum time.
"It says plus or minus and you just have to follow that and so long as you are in plus by the time you get to that line there then you are fine.
"As far as I am concerned I definitely did what I should do so I think it should be fine."
Rosberg was summoned by the race stewards after the race to look at the incident.