Button comfortable about points gap
| | |
| --- | --- |
| By Simon Strang and Pablo Elizalde | Sunday, October 4th 2009, 07:32 GMT |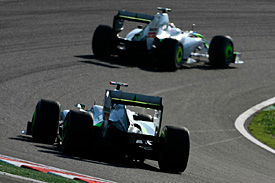 Jenson Button was happy to lose just one point to Brawn team-mate Rubens Barrichello after finishing in eighth position at the Japanese Grand Prix.
But the Briton says he is expecting to gain a place later on, because he is convinced Williams driver Nico Rosberg, fifth today, will get a penalty for not slowing down when the safety was on track.
"Today was about picking up points and that's what I did," Button told the BBC after the race. "I can't say I'll only be getting one point at the end of the race, because Rosberg set his best sector under the safety car.
"It went green and he gained four seconds on myself and Rubens when you are all doing the same pace because you are limited - we have it on the steering wheel. So I really can't see that I am only going to get one point. I'm sure he is going to get a penalty for that.
"So one or two points is good and I only lost one to Rubens. I obviously lost a few to Vettel but we expected him to win the race, their pace has been very good all weekend. It's nice to pick up one or two points, whichever one it is, and to finish just behind Rubens."
Button has a 14-point lead to Barrichello with just two races to go, with Sebastian Vettel, winner today at Suzuka, 16 points behind.
Brawn driver Button was never in contention for the top positions, having started from 11th position.
The Briton, however, was pleased with his pace in the race.
"In the race my pace was very good," he said. "I was very happy with it. It's just tough when you are that far back at the start. I was stuck behind people that were stopping much later, but we made it work in the end and I am happy with today's performance.
"My race pace was good and that is all I can hope for. I was pulling massive amounts of time out of the people in front of me. It is very difficult to overtake around here and with that SC it bunched us all up. I did the best I could in the car that I have and today the car was working reasonably well, but obviously not as well as those at the front.
"We go to two circuits now that should suit our car reasonably well so I am excited about the next two and looking forward to Brazil."