Alguersuari: Degner speeds higher in '09
| | |
| --- | --- |
| By Simon Strang and James Roberts | Saturday, October 3rd 2009, 10:34 GMT |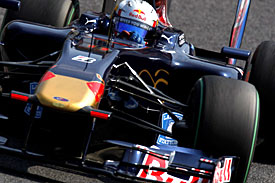 Drivers are carrying much higher speed through Suzuka's Degner Curves than when Formula 1 last visited the Japanese track in 2006, that is the view of Jaime Alguersuari after the Spaniard crashed his Toro Rosso at that section of the track during qualifying.
Several drivers, including Alguersuari's team-mate Sebastien Buemi, Mark Webber and Heikki Kovalainen all had accidents at the Degner Curves on Saturday.
The 19-year-old believes that a combination of the higher speeds and rough kerbs on the outside of the corner could be contributing factors to the spate of crashes.
"You need to brake a little bit and stay in sixth gear - it's a really fast corner, much faster than it looks," said Alguersuari. "And when you take a bit of kerb the car gets very unstable.
"Perhaps they should change the kerbs for next year as this is not one of the best tracks for safety in the world.
"You carry a lot more corner speed in these cars than you did in 2006. With the slick tyres it's crazy how fast you can be mid-corner. And there is no run-off here, the wall is quite near to the track."
Alguersuari added that he wasn't too disappointed not to have missed an opportunity to go for Q3, adding that even the accident added to his experience level in F1.
"I think I'm quite happy to be honest, I never expected to be in Q2 this year and unfortunately there is also the disappointment with the crash," he said. "I feel sorry for the team and the mechanics and hopefully it won't happen again. But it's experience for me.
"We have a new floor, so we have more downforce and we are faster as a result. It's a shame for Sebastian [Buemi] and myself that we couldn't get any dry running here yesterday at the track.
"As for my experience it's better to get as much track familiarisation as possible. But I guess that is the same for everyone."