Q & A with Jenson Button
| | |
| --- | --- |
| By Jonathan Noble | Friday, October 2nd 2009, 08:45 GMT |
Q. What is the challenge of Suzuka like in the wet?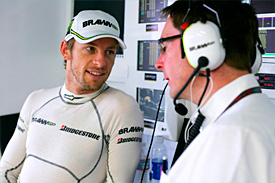 Jenson Button: It is just so much slower than the dry. You are 40 km/h slower through the turns up the hill. It is not as much fun, but it is alright. Tomorrow morning we think there is a good chance of it being damp, and then it will be dry for qualifying.
Q. The first dry laps could well be in Q1 then. Is that something you are excited about?
JB: Yes. It is good. There are lots of people here who have not done much running here in an F1 car, or no running at all. That is a good thing. And it makes it exciting for sure. You just have to hope that we can get a good balance for qualifying straight off - which is why we are doing a lot of work now to make sure that we have the balance correct for when we get out there. It is very difficult to balance the car in the wet, and thinking it is going to be the same in the dry. It is normally very different. That is another reason why we didn't run too much this afternoon.
Q. Do you want it exciting though, or would you rather it was a boring straightforward weekend?
JB: Straightforward is good. It is exciting, but it is also a better situation for me if we go straight into qualifying. It is exciting because it is getting out there on dry tyres, which is always very exciting around Suzuka. But, I think it is better for me if we go straight into qualifying.
Q. How confident can you be for the world title right now?
JB: It's the same as yesterday. Nothing has changed. I am looking forward to this race and we will see what happens. If it is a good race it is, and if it's not, it's not. I am just enjoying the moment at the moment.
Q. If the forecast for Sunday had been for bad weather, would you have done more running today?
JB: Yes. For sure. This afternoon was very wet with rivers and we decided to call it a day before the end of the session. But if you were doing wet running you would have run at the end of the session, for sure, if you wanted to get some more wet running done.
You also have to be careful here because you don't get that many tyres over a race weekend, as this place uses tyres quite easily – we damage tyres quite quickly here. So if it was wet, for sure we would have done a bit more running but not much I don't think. But it is looking like it is going to be dry for qualifying and the race, so that is positive. For Sunday there is not the chance for rain, so it can always change for sure. We will still be okay, even if it does.
Q. Are you expecting a bit of a lottery, a mixed up grid?
JB: I really don't know. I don't know what is going to happen, if it is dry or wet. We will see.
Q. What were you doing in the second session?
JB: I was chilling. We also did some set-up work during the end of the session, just running through all the info to do with what we are going to do in qualifying tomorrow. Plus gear ratios, we had to do that before 5pm – and a few other things.
Q. Are you nervous or relaxed?
JB: The same as yesterday. Exactly the same as yesterday.
Q. So it doesn't build as the days go on?
JB: No. Definitely not.