Howett: No doubt over Toyota future
| | |
| --- | --- |
| By Jonathan Noble | Friday, October 2nd 2009, 02:55 GMT |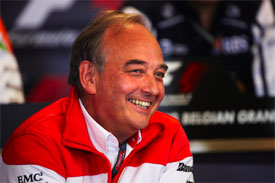 Toyota F1 president John Howett has rubbished suggestions that his team's future in the sport is in doubt, despite reports earlier this week claiming that the team could withdraw at the end of the season.
Although Toyota is waiting for a Toyota Motor Company board meeting on November 15 to have its 2010 budget signed off, Howett has made it clear that comments from team principal Tadashi Yamashina published earlier this week, claiming that its participation next year could not be guaranteed, were taken out of context.
"I spoke to Yamashina-san this morning and he said almost all the Japanese newspapers were correct," he said. "But one Japanese newspaper, which Reuters picked up, misquoted him.
"I think his position is that we should be here until 2012 and I think on the point of giving an absolute guarantee, I think he was just pragmatic in saying that you can never really give that.
"There are many more issues rather than budget, or whatever. I think the direction of FOTA is positive, and it is coming to a more sensible cost-balance."
Howett also moved to play down the significance of the November 15 meeting, claiming it was nothing out of the ordinary.
"It is the same, normally every year," he said. "People say, how can you possibly manage? But that is normal business. I think in every 20 years of business life, people come along and say you need to reduce your budget by 10 percent. We just have to get on with it.
"We have got several scenarios planned, and from our perspective we will know exactly at the end of the year - or even early next year - what the final operating budget will be for 2010."
He added: "We have a board meeting, we request the money annually, and they have a number of meetings, and finally in November they approve the global motorsport budget. It is not only F1, it is NASCAR, Formula Nippon, Japanese GP, F3, everything. It is normal procedure."
Howett said the team meetings with senior staff in Japan had been related to the development of the 2010 car, and that there were no signals at all about commitment wavering for next year from the Japanese chiefs.
"At the moment we have absolutely no indication at all that that will be the case. We are working flat out," he said.
Toyota is also keen to continue supplying engines to a customer team in F1 next year, with its current partnership with Williams coming to end.
"Our position is that if they [Williams] don't want it then fine, we are talking to other people for a supply," he said. "I wouldn't say that we are clearing the decks at all. If Williams want the engine, it's still available. But I think now we have separated for various reasons."
When asked if the discussions for a customer supply were with Team US F1, Howett said: "I'm not prepared to say who it is. We've got more than one team asking for it. Some are unable I think without a breach of contract to do that."