Kovalainen tops first Suzuka practice
| | |
| --- | --- |
| By Simon Strang | Friday, October 2nd 2009, 02:34 GMT |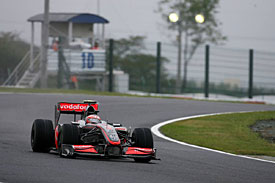 Heikki Kovalainen waited until the very last moment of the first free practice session for the Japanese Grand Prix to go quickest around a wet-but-drying Suzuka circuit.
Until the Finn took the chequered flag, Kazuki Nakajima looked likely to enjoy a piece of home glory as the Williams driver took the top spot with just minutes to spare.
The 24-year-old Japanese appeared to time his final attempt on intermediate tyres to perfection as he set a fastest time of 1m40.648s. But the lap times were falling all around him as drivers found ever more grip on the drying track, and Kovalainen was one of them - his 1m40.356s lap settling the matter.
Wet-weather maestro Adrian Sutil was another to get bumped by the Finn, and the Force India driver ended up third, having been fastest himself earlier in the session.
While the session began with a great deal of standing water on the track, it quickly dispersed as several of F1's Suzuka rookies got down to the business of learning the daunting track - Lewis Hamilton and Kovalainen among them.
In fact, the McLaren drivers were the early pace-setters, until Sebastian Vettel, then Fernando Alonso moved to the top.
Hamilton responded halfway through the 90-minute session only to find himself demoted again by Nakajima. With 20 minutes to go, Kovalainen moved to the top and though briefly deposed by Sutil, remained in control until all the antics of the final ten minutes.
When the order had shaken out, behind the top three, Giancarlo Fisichella looked to have garnered some confidence in the Ferrari F60 to go fourth fastest, ahead of a rapid Sebastien Buemi, while Hamilton was eventually sixth.
Alonso was seventh, despite a run across the gravel at the hairpin early on in the session. The man he replaces at Ferrari, Kimi Raikkonen, was just behind him in eighth.
Rubens Barrichello and Nico Rosberg completed the top ten.
Despite the weather, there were surprisingly few incidents, with Fisichella replicating Alonso's moment at the hairpin late on, and Vitantonio Liuzzi having a lurid moment as he ran wide across the kerbing at Spoon.
Kamui Kobayashi ended the session 19th on his debut, but impressed through the session and was only outpaced by Toyota team-mate Jarno Trulli in the final five minutes.
Pos  Driver        Team                      Time              Laps
 1.  Kovalainen    McLaren-Mercedes     (B)  1:40.356           24
 2.  Nakajima      Williams-Toyota      (B)  1:40.648 + 0.292   18
 3.  Sutil         Force India-Mercedes (B)  1:40.806 + 0.450   14
 4.  Fisichella    Ferrari              (B)  1:40.985 + 0.629   27
 5.  Buemi         Toro Rosso-Ferrari   (B)  1:41.421 + 1.065   26
 6.  Hamilton      McLaren-Mercedes     (B)  1:41.443 + 1.087   15
 7.  Alonso        Renault              (B)  1:41.532 + 1.176   22
 8.  Raikkonen     Ferrari              (B)  1:41.577 + 1.221   25
 9.  Barrichello   Brawn GP-Mercedes    (B)  1:41.821 + 1.465   18
10.  Rosberg       Williams-Toyota      (B)  1:42.188 + 1.832   20
11.  Webber        Red Bull-Renault     (B)  1:42.332 + 1.976   10
12.  Liuzzi        Force India-Mercedes (B)  1:42.475 + 2.119   15
13.  Trulli        Toyota               (B)  1:42.657 + 2.301   13
14.  Alguersuari   Toro Rosso-Ferrari   (B)  1:42.667 + 2.311   27
15.  Kubica        BMW Sauber           (B)  1:42.833 + 2.477   16
16.  Heidfeld      BMW Sauber           (B)  1:42.977 + 2.621   14
17.  Vettel        Red Bull-Renault     (B)  1:43.218 + 2.862   11
18.  Button        Brawn GP-Mercedes    (B)  1:43.318 + 2.962   17
19.  Kobayashi     Toyota               (B)  1:43.407 + 3.051   16
20.  Grosjean      Renault              (B)  1:43.572 + 3.216   22

All timing unofficial