| | |
| --- | --- |
| Team hopes Toseland can end on a high | |
| | |
| --- | --- |
| By Toby Moody and Matt Beer | Thursday, October 1st 2009, 20:51 GMT |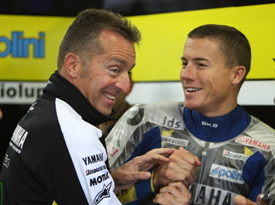 Tech 3 Yamaha boss Herve Poncharal says he is disappointed that James Toseland's MotoGP stint did not work out better, and hopes the Briton can bow out on a high.
Toseland has been dropped in favour of Ben Spies for next season, but will take the American's place in Yamaha's factory World Superbike squad.
After a very promising start to his MotoGP career in 2008, Toseland has had a difficult 2009 campaign and is only 13th in the standings at present.
"We believed a lot, Yamaha and myself, in James's potential when we decided to take him to MotoGP," said Poncharal.
"We had ups and downs. Still I think we have to remember that in his first grand prix he almost took pole and had second position on the grid.
"He had some good races, I remember Australia last year or Assen this year, but altogether it was frustrating - for him and a bit for us.
"But he always gave 100 per cent. He's been very professional, he's been very dedicated and I want to thank him for this.
"We still have another four races to go, and I know he's very upset not to have done better than sixth, so he's going to be pushing to improve his best race position before leaving the MotoGP world."
He admitted that he was sad to see Toseland leaving the team, but pleased he had a good ride to move on to.
"It's always difficult to lose somebody, especially somebody you enjoyed a good relationship with, but MotoGP is the top class - the ultimate class in two-wheeled sport," Poncharal said.
"But I'm really pleased to see James stay in the Yamaha family and having probably the best bike next year in the World Superbikes. I wish him good luck."
Toseland's departure means that Colin Edwards will stay on for a third season at Tech 3 alongside fellow Texan Spies. Edwards has had an impressive 2009 season, taking a podium in Britain and holding sixth in the championship with four races to go.
Poncharal said the 35-year-old had become an integral part of Tech 3 and was delighted to retain him.
"I think he really deserves to be with us again," said Poncharal. "I know he's not the youngest guy on track, but he's sixth in the championship. He helped us to our best ever result, which was second place at Donington.
"In racing you have a lot of pressure and a lot of investments, and a lot of responsibilities. But at the end of the day, each team should be a bit like a family, and I think Colin really belongs in the Tech 3 family. The whole team enjoys with him a relationship like we've really rarely had.
"Just for that, I think we need Colin to be staying in MotoGP, because he brings a bit of a human touch in this sometimes difficult world."