Q & A with Rubens Barrichello
| | |
| --- | --- |
| By Jonathan Noble | Thursday, October 1st 2009, 10:06 GMT |
Q. Your target for this weekend is pretty simple, I guess?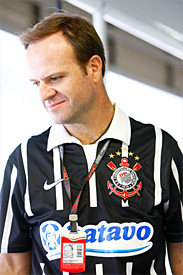 Rubens Barrichello: Yes, it's winning, winning, winning. It's pretty simply. People asked if I was going to change my tactic and go flat out because I need to win. But I have been flat out for a long time. I have nothing else to think about.
The gap has been bigger in the past. It was down to 14, then it grew up to 15. If everything was okay in Singapore I would have shaved another point from Jenson. I have to try to win the race without worrying where Jenson is and after the race is done we'll see if I have conquered more or less points.
Q. Is Red Bull a big threat here?
RB: We always knew coming to Suzuka that is a track that will very much favour Red Bull so we had that in mind. It's been a little bit more humid than normal for Suzuka and I think that could help us. If it's a little bit hotter it will help our tyre situation. Besides that, I love the track. I love coming back to Suzuka and I will give my very best whatever the outcome is.
Q. Have you sorted out the problem you had during the pitstop in Singapore?
RB: Well, we talked briefly about what happened there. You can see on the TV that inside the car I'm pressing the button and they don't get to see this pressing in the telemetry. That's why they haven't got an answer. They are still trying to understand that. It's a bit of a shame because I lose five to seven seconds in the pitstop.
Q. Could that happen again?
RB: I hope all my gearbox and electronic glitches are done for the year, because I'd love to finish the season on a high.
Q. How do you see Fernando Alonso will suit Ferrari?
RB: I think it's case of love there. There's been talks about Fernando going to Ferrari for the past two years and there were times when he was certain he would go there and there were times when it didn't look so firm. For me it came as a surprise that they announced it this early, especially because they had a contract with Kimi.
I think for the tifosi it's a real case of love. He was wishing for this so badly and Ferrari as well. When it's like that, and he's Latin and so warm, I think it's going to be easy to gel and it's going to be good. Fernando is a top-class driver. For me he's on the level of Michael Schumacher and he can really be on the top. I just wish my friend Felipe Massa can hold on to him, because I think he's going to be the guy to beat.
Q. There's a report that you have visited Williams, can you elaborate on that?
RB: It's fairly open, I've said that. I'm in much better shape that I've ever been, winning races and just being in the paddock's mouth. All I can say is that I wish to be driving a competitive car. I think I will be driving a competitive car, but so far that's all I can say. It's not done and I had two hours alongside Ross Brawn coming into here, and 99% of the time we talked about Singapore and about the rest. But my manager and the people back in England will talk to the team, but the team is focused on winning the championship, so basically it's not about talking about next year.
Q. Percentage-wise, how do you rate your chances of being in F1?
RB: Next year? A hundred per cent. Or 99.9, maybe it's better to say that.
Q. Do you think you are better than Jenson at Suzuka?
RB. We don't know. We've raced here once together. The fact is that I enjoy Suzuka very much. I'm looking forward to driving here tomorrow. They say that it could be wet tomorrow. I honestly wish I was already driving because I'm very excited.
Q. At this stage in the battle, what do you think are your key strengths?
RB: I think it's thinking about myself. Thinking why I do this. I love doing this. It's concentrating on my job, that's my strength. Do the best I can and after the race ask where Jenson finished, but not before.
Q. You are so close to the championship, but you seem so relaxed.
RB: I am really relaxed. I think I have a good chance, and I think that's the best chance for a long time. There was a bit of pressure for me to know that I had to change the gearbox in Singapore, but I dealt extremely well with that. At the end of the day it was frustrating not to have finished in front of Jenson, even with the penalty, because it would have been a reward for all the hard work. But I will win the championship if it's mine.
If it's not mine it will be Jenson's because he started the season so well. Vettel has a chance as well, although his chances rely a little bit more on ourselves. But I rate Vettel extremely high for any championship because the boy is doing really well. It won't change if I'm nervous or not. I just have to keep it cool and really win the race and forget about the race.