Ecclestone: Massa can handle Alonso
| | |
| --- | --- |
| By Jonathan Noble | Thursday, October 1st 2009, 03:15 GMT |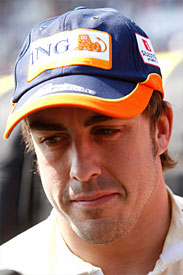 Fernando Alonso should not expect life at Ferrari to be easy next year, reckons Formula 1 supremo Bernie Ecclestone.
With Alonso's much-rumoured move to Maranello having been confirmed on Wednesday night, Ecclestone predicts that the Spaniard will face a big challenge from team-mate Felipe Massa and a struggle if he tries to get the team to back him in the way it did Michael Schumacher.
"It is good," said Ecclestone at the Suzuka circuit on Thursday about Alonso's Ferrari move. "It's good for Fernando, good for Formula 1, good for Ferrari."
Speaking about whether Massa would be able to compete on equal terms with Alonso, Ecclestone said: "If he [Felipe] handled Kimi, he should be able to handle Fernando. They are the same type of driver, aren't they? I think he will be alright."
And although Ecclestone expected Alonso to try and get the whole of Ferrari behind him, he thought it unlikely he would enjoy the kind of total support that Schumacher enjoyed during his era at the team.
"No, no way," he said about the prospects of Alonso becoming the sole focus of the team. "He may try, but I don't think he will be successful."
Ecclestone hopes that Kimi Raikkonen will return to McLaren next year, and thinks the Finn will blossom in the environment of an English team.
"I think we will see him in a good car," he said. "It would be good to see him in a McLaren."
When asked why the Raikkonen/Ferrari relationship had not worked out, Ecclestone said: "Different culture. He is probably better off in an English type team."