Q & A with Matthew Wilson
| | |
| --- | --- |
| By David Evans | Wednesday, September 30th 2009, 09:04 GMT |
Stobart driver Matthew Wilson tested the all-new Fiesta S2000 - the car that will form the basis of Ford's World Rally Championship future - for the first time shortly before departing for the Catalunya Rally. He told AUTOSPORT about the car and his first taste of natural aspiration.
Q. What's the new Fiesta S2000 like?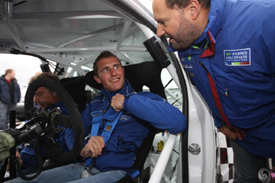 Matthew Wilson: It was great. The car was completely new, but it was great to see the whole thing coming out of the box.
Q. How much testing had been done before you drove it?
MW: None. The car had gone around the estate at Dovenby, but I was the first person to actually drive it and test it.
Q. That's quite something...
MW: It really was. I've never done that sort of thing before, but it was fantastic. Christian [Loriaux, M-Sport technical director] was there along with all the designers and it was great to be driving this car that they had been living and breathing for so long. The car was really raw, you know it was literally straight out of the factory and onto the airfield.
Q. What did you actually do at the airfield?
MW: Literally, we took the car up and down the road and just started to slowly build up more and more speed. Like I said, it was the first time I'd done this kind of first test, so I was just listening out for every noise or rattle - it was quite a responsibility, but something I really enjoyed.
Q. What did the car feel like?
MW: The chassis felt absolutely mega. Obviously, this was the very first time the car had been out, so we weren't going to go out and break any records, but it felt fantastic, sounded even better and looks the absolute business. We were running the car in a really safe set-up, so it was high and soft, just to make sure everything worked. Once we get it into the woods and get it into a real gravel set-up, it'll be great. I'm really excited about it.
Q. Will you do more in it?
MW: Yes. As soon as I get back from Spain, we're going to take it into the forests for three or four days. To be honest, I can't wait. The thought of driving that chassis through the woods and hearing that engine bouncing off the trees is going to be fantastic. And, driving a non-turbocharged car has been really good.
Q. You haven't done much of that...
MW: No, never. I think driving the Fiesta will help my technique in the World Rally Car. Driving the Fiesta, you've got to be so meticulous – you've got to be in the right gear all of the time, there's not the torque from the turbocharger to pull you through.
Q. And what about Catalunya, how are things looking?
MW: Good. We did a test on Monday afternoon. We were in the car for about 90 minutes, so we didn't do a massive amount of driving, but we took Mikko's [Hirvonen] base set-up and we went with that. We were just changing small things like damper clicks, things that don't take a lot of time to change and then going back out. For me, it was just a good chance to get back into driving on this kind of rally. Okay, we did Ireland at the start of the year, but in reality it's been 12 months since we did an asphalt event of this nature.