Martin not getting carried away
| | |
| --- | --- |
| By Diego Mejia | Monday, September 28th 2009, 15:41 GMT |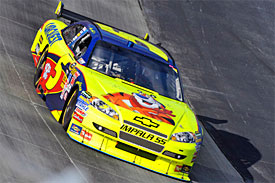 Mark Martin refuses to get carried away by his Chase lead and, despite Jimmie Johnson's win, he reckons the title battle to be still wide open among the 12 contenders in the play-off.
The Hendrick driver won the first race of the Chase at Loudon and followed that up with a second place finish on Sunday at Dover, which allowed him to retain the lead of the championship despite race winner Johnson closing on him in the points race.
Although the title battle is starting to be perceived as one between him and the reigning champion as they have won nine races between them this year, Martin is adamant that it is too early to say any of the other ten drivers are still out of contention.
"It's just two races," said Martin. "And I think a first and the second is a pretty good way to come out of the gate. But we've got eight more to go, and all kinds of things can happen.
"You know, I still say that there's 12 in it, and 12 can win. You know, it might be a challenge for a couple of the teams that are toward the back right now. But you just don't have any concept, I guess, of how much racing eight races is. It's a lot of racing. A lot of things can happen."
Martin was probably the only driver in the field able to get close to Johnson's pace in Sunday's race, but his speed on restarts hurt his hopes of victory. The 50-year-old believes they couldn't find the perfection they needed in their car to be able to prevent his Hendrick team-mate from sweeping both of the year's races at Dover.
"We had a good handling car on the long runs but it was a handful on the restarts," said Martin. "Alan [Gustafson, crew chief] and the team just did a great job. We did really well by finishing second.
"We were just off a little bit and it really showed itself on the restarts. But we were off just a little bit, even on the long run even though we would get to where we could beat most of the crowd. We just didn't hit it perfect, but as competitive as it is, I am very proud of how well we hit it and what a race Alan and the team gave me."
Martin leads Johnson by ten points in the standings, while Juan Pablo Montoya follows them in third, already 65 points behind.