Paddock Life: Singapore edition
| | |
| --- | --- |
| By Jonathan Noble | Monday, September 28th 2009, 15:20 GMT |
AUTOSPORT brings you its regular column of life inside the paddock. This week: Singapore
Formula 1 has always been about a fight against the stopwatch. Yet in Singapore, the fight against time took on a whole new meaning again as the paddock battled to sort out its waking hours - and get the body used to eating the wrong food at the wrong time of day.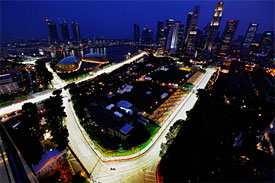 The majority of people there stuck on European time once again, which meant getting up in the early afternoon and heading for bed in the early hours – and sometimes after dawn.
It was also easy to tell people who were working at the F1 race from the locals – as they were the only ones saying 'good morning' at four in the afternoon.
The time zone shift was not of much help to members of the McLaren team, however, who were forced to pull off an 'all-dayer' on Friday when it was decided that Lewis Hamilton needed a new chassis prepared.
A problem with the wiring system deep inside the car could not be fixed easily at the track, and the only other option was to get a new car ready. It meant a 20-hour day for the boys in the garage... and Mercedes-Benz chief Norbert Haug had nothing but praise for what they had done.
"I think it is important to mention what the guys in the garage did changing the chassis," said Haug. "When Lewis did his first flying lap afterwards he was immediately posting a purple time. That shows the trust that he had in his team. He had one out lap and then he went for it. That is an absolutely positive sign.
"We were not spot-on on Friday but that changed overnight and I have to say that this is a great achievement. I'm not sure that a lot of teams can do that job overnight."
Singapore is by far the most spectacular-looking grand prix when it comes to television images – with the skyline at night providing a stunning backdrop to the street circuit.
Yet a lot of cameras stayed firmly focused down in the paddock and the pitlane over the weekend as a host of top grade celebrities flew in for the inaugural mix of music and F1 that is known as 'F1 Rocks'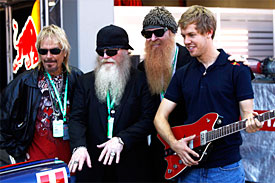 On Thursday, the long beards of ZZ Top were seen wandering around the paddock ahead of their concert, while later in the weekend various stars who were playing were spotted behind their bodyguards – including Gwen Stefani and No Doubt, Simple Minds, N*E*R*D, the Black Eyed Peas, and Beyonce.
But it was not just the music stars who flocked to Singapore, because the paddock was packed with world champions too
Within the space of a few metres behind the garages, you could have grabbed Jacques Villeneuve, Jackie Stewart, Damon Hill, Niki Lauda, and Mika Hakkinen.
Add Fernando Alonso, Lewis Hamilton and Kimi Raikkonen to the mix, and it must have been some sort of record.
Formula 1 partner sponsor LG hosted an informal media 'brunch' on Thursday afternoon to offer some insight into its activities – and that proved to be very good news for fans hoping to see a bit of HD action soon.
As well as showing off some exciting new technology developments – including a mobile phone video watch – LG confirmed it is pushing hard to try and get F1 to go fully high-definition in the future. And, if you head down to your local television store over the next few weeks, you may well see the first results of LG's efforts.
Back at the Monaco Grand Prix, LG took some state-of-the-art high definition cameras along with them to film some spectacular action shots of the cars from unique angles.
And Andrew Barrett, LG's vice president for global sponsorships, says the results – in full glorious 1080p – are absolutely mind-blowing.
He says F1 personnel he has shown it to have asked for copies – as it shows off car behaviour, such as tyres flexing and suspension movements, that teams have never been able to see so clearly before. He reckons that fans will truly come to understand exactly what marbles are when they see the tiny bits of rubber fly off the cars as they go around.
Interestingly, Barrett revealed that the LG camera crew had to have a rethink about how to film inside the Monaco tunnel after they found that the vibrations and noises from the car were causing the hard disk drives inside the cameras they had to skip frames!
AUTOSPORT has been promised a look at the film when it is ready for public release – so stay tuned!
Jarno Trulli continued his charity efforts over the Singapore Grand Prix weekend when he raised a further 200,000 Euros for his Abruzzo nel Cuore appeal with a spectacular auction.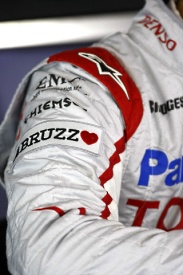 The Toyota driver has raised a total of 650,000 Euros since April to help those affected by the earthquake – and lucky bidders in Singapore got a chance to buy helmets from Trulli, Mark Webber and David Coulthard – plus a very nice Audemars Piguet watch that raised 150,000 Euros.
Trulli said: "It was another great event and I would like to thank everyone who took part, especially Audemars Piguet.
"This money is really important for the people of Abruzzo and it will help to rebuild the community, which suffered so much damage in the earthquake.
"I have put a lot of energy into this charity project and I will personally make sure the money is well spent to make the people's lives better."