Horner hails 'great' season for Red Bull
| | |
| --- | --- |
| By Jonathan Noble and Pablo Elizalde | Monday, September 28th 2009, 15:01 GMT |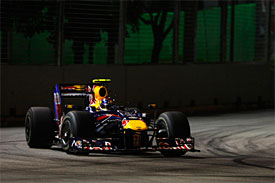 Red Bull team principal Christian Horner says his team has enjoyed a great season despite the missed opportunities that have cost the outfit a better shot at the titles.
The Milton Keynes-based squad is 42 points behind Brawn in the championship standings with just three races remaining, while Sebastian Vettel is 25 behind Jenson Button with 30 to play for.
Team-mate Mark Webber is already out of contention after retiring from the Singapore Grand Prix.
Red Bull's season has been hit by problems more often that Brawn's, meaning the Renault-powered squad has lost vital points when its car was very strong.
Despite that, Horner says the team has every reason to be proud of its performance this season.
"When you reflect on the season as a whole there's been opportunities that have been lost, but we've had a great season," Horner said in Singapore.
"We've had 12 podiums so far, we've had three wins, we've had four poles. We have scored 109 [sic] points so far and the car has consistently been the best chassis throughout all the circuits that we've been to.
"Obviously there was the controversy with the double diffuser at the beginning of the season, and we had to redesign a lot of the rear end of the car. But I think the team has done brilliant job this year, I really do.
"The team can be proud of what it has achieved this season and there's still three races to go, which is the opportunity for three potential race wins."
He added: "If you had said 12 months ago that we'd be sitting at this stage of the championship I don't think anybody would have believed you. For us we are going to just focus on the remaining three races, as we did this weekend, and it could quite easily had paid off."
Although Horner conceded the team's championship chances are very slim, he insists Red Bull will continue to push hard to try and win the last three races of the year.
"Theoretically we need to win every race with Jenson DNFing in most of them. In reality it's a mountain to climb, but mathematically there's still a chance so we are going to attack the three remaining weekends and try to win all three.
"We had great pace here on a track which theoretically shouldn't have suited the car really well and both drivers had very, very strong pace. We are looking forward to Japan in less than a week."