Ford starts testing Fiesta S2000
| | |
| --- | --- |
| By David Evans | Monday, September 28th 2009, 08:05 GMT |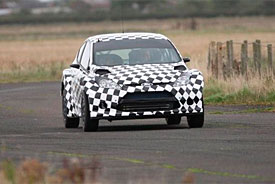 The car which will take Ford into the next generation of World Rally Cars has started testing.
Just six months after M-Sport undertook the design process for the Fiesta S2000, the car has turned a wheel for the first time at an airfield in Cumbria yesterday.
The first test car will move into Greystoke forest, M-Sport's own test facility close to its Cockermouth base, before switching to an asphalt development programme on mainland Europe. A second test Fiesta is expected to be built before the end of October.
Stobart Ford World Rally Team driver Matthew Wilson undertook the initial mileage and he is expected to play a large role in the development of the car - along with five-time world rally winner Markko Martin.
M-Sport Technical director Christian Loriaux said: "I have been delighted with how the build of the new Fiesta S2000 rally car has progressed according to the schedule that we laid out at the start of this project. This is a totally new car and the entire design and engineering team here have been very focused on providing both a reliable and very competitive car for our customers.
"A brand new rally car involves thousands of parts and making sure that they are all designed, manufactured and delivered on time is an incredible achievement and takes a lot of team work. Our production and purchasing departments have done a great job in supporting the design team and ensuring the car was completed on time."
Ford World Rally Team director Malcolm Wilson added: "The production of a new rally car is always an exciting period for everyone at M-Sport and I'm pleased to see that Christian and his team have finished the build on schedule as planned. The important thing now is that we undertake a strong test and development campaign in order to provide our customers with the best possible S2000 package. I'm sure that this car will also provide a very strong base for Ford's next generation WRC car."
As well as providing the base vehicle for Ford's World Rally Car in 2011, the Fiesta S2000 is expected to be used extensively by its customer teams in next year's inaugural Super 2000 World Cup - a World Rally Championship-based series running on 10 rounds of the 2010 calendar.