Q & A with Wolfgang Ullrich
| | |
| --- | --- |
| By Simon Strang | Sunday, September 27th 2009, 11:38 GMT |
After years of relentless success, 2009 has been a tough year for Audi's sportscar programme - with Peugeot ending its winning runs at the Le Mans 24 Hours and Petit Le Mans, and rows over the design of the R15 TDI's front end leaving the car's future uncertain.
As drivers Allan McNish and Dindo Capello took the fight to the Peugeots in yesterday's Petit Le Mans, Audi Sport boss Wolfgang Ullrich gave AUTOSPORT the inside line on the mood in the team.
Q. Are you disappointed, surprised or is this what you expected from the pace of the Peugeots?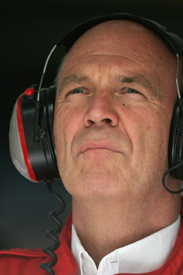 Wolfgang Ullrich: I think something about one second or a little bit below, we thought that would be the difference. We had to do a lot of work on the cars after the two accidents we had. That was quite difficult. This morning we had two cars that were running good lap times. Basically there was no time to care about qualifying. We just went and that was it. Things like this happen but the important thing is that it looks as we have two good race cars and then we are going to look and see how we can do in the race.
Q. The car has been unpredictable again here, is it harder to find the limit with the R15 TDI?
WU: We just need some experience, that's it. The car is by far on a higher performance level, and then you are always more on the edge that's clear. The window is smaller, but if you are in it, then you are faster than before.
Q. What was the problem with Marco Werner's car?
WU: Marco went off in corner two and he went straight through the grass, which normally is no problem, but because of the thunderstorms and some rivers, which have created holes there. He went into one of these holes, that he didn't see before, and crashed the whole front of the car. There was a lot of work to be done like the day before after Lucas Luhr's off at the very same point.
Q. So are you saying that you could have been closer to the Peugeots had you not had to recover from accident damage.
WU: Yes. That's basically what happened.
Q. Are you happy with what you have achieved with the R15 TDI, given the amount of work and expenditure that has gone into the programme?
WU: We have not been happy with what we achieved at Le Mans for sure, but the car was just not ready. We just use this race weekend for racing, for getting more experience with the car and we think that we just need a little bit of time to exploit the whole potential of the car. That is what we are working on and racing is the best chance to do it.
Q. If you are honest, is the full potential of the car good enough to beat the Peugeot?
WU: It should be!
Q. Where are you with the conversations with the ACO over the front aerodynamics of the car, are you close to an agreement?
WU: There are some clarifications that have to be worked on. What is important for us is that we can continue with the concept of our car. But we still need to be competitive. And before the final wording of the rules are not there we cannot say if this is achieved or not.
Q. Are you close to an agreement?
WU: It is difficult to say.
Q. Would you then potentially take a year off and come back in 2011?
WU: This is something that I have no clue on. We first need to see what the final wording will be, then we need to calculate what it means for us, then we will make our decision.
Q. Presumably there is a lot of expenditure that goes into the R15 TDI programme, if you don't find an agreement won't that be even more frustrating?
WU: It is a programme for two years and if you can't continue after one year then that is always bad. But I hope we can find a solution.
Q. This is only your third race weekend this year with this car, would you have liked to race it more?
WU: For sure it would have been better. But it was a decision that has been taken and decisions like this you have to cope with.
Q. What is your ideal solution for next year?
WU: We have to find a path from now to Le Mans. If the rulebook allows to take this path with just some last development on the existing car, I think it is a good move for Le Mans and it should be prepared on the level that we have been in previous years. The way to Le Mans is clearly defined.
Q. The car itself clearly needs more development to be ultimately competitive, would you expect to see a significantly different version of the car next year?
WU: If you really have to do a significant change, I think we can't make it because that is not planned. The budget is in place, the activities are in place. The R15 was planned to be a car that runs for two years, with for sure an improvement step over the winter, but for sure not doing a nearly new car. This was not planned.
Q. Audi's strength is its strategy and team play, do you still think Peugeot are within range?
WU: Speed in qualifying is one thing, another thing is the speed you can go consistently in the race. And the third thing is how you handle the rest and the result is a combination of all of this.
Q. Do you think Peugeot is a stronger competitor than last year though?
WU: You have to say that they just have improved and that is it. That is something we have seen and which is clear. They have been trying to catch up, catch up, catch up and they have improved year-by-year. On all the areas they just tried to bring themselves on a better level. That's clear, because they had less experience in endurance and if you come in and if you see that with a faster car than the competitor has and you can't beat them, then you will try to change everything to make a difference and that is what they have done.
Q. Can you see Oliver Jarvis becoming part of the squad in the future?
WU: Maybe. He is really doing a good job.
Q. Will he be racing one of the cars in Japan?
WU: I think so yes. This is what we have planned.
Q. Can he expect perhaps a stronger ride in DTM next season?
WU: We will see when the season is over.
Q. How close do you think BMW is to coming in to DTM and would you prefer that scenario?
WU: Another brand if it is a strong one and they can run on the DTM bill is welcome, no question. I am quite sure that BMW could do it, but it is their decision what they do. A third manufacturer, or even a fourth is welcome, but it works with two as well.
Q. Would you say that the DTM is Audi's first priority?
WU: When this race is over then it is Audi's priority for the rest of the season. We have always have two programmes running and you can't put a priority on one because if you don't want to win in a category you shouldn't go there. So the priority must be there for the people that are on that project.
Q. Is this a track you like?
WU: I like this place very much. I think it is really a great race circuit. I hope we see a good race tomorrow.
Q. Is there any extra pressure when you have such a long line of success at Petit?
WU: But the question is getting better is you have won eight or nine times? Maybe it is a difference between the first and doing the second, and the ninth and trying to do the tenth. This for sure makes a difference but this is how it just builds up through the years. The problem is only statistically. Nobody wants to lose but that is what we are all here for. But if we can't win then when we have to think about it and try to make it better next time. That's sport, that's the idea of sport and that's how we try to do it.
Q. Can you elaborate about your problems at Le Mans?
WU: We just couldn't finish the preparation as we planned. Because of many troubles and unpredictable accidents in testing - losing complete cars more than once. And then needing another two months to get back to where we started. It was just too late at the end. The final spec for Le Mans, which worked with the tyres and what we needed, was six weeks before Le Mans. And this in the years before was three to four months before Le Mans, and this makes a big difference.
Q. Do you think they should bring back the test back for next year.
WU: I think this would be something positive. You can only see things at Le Mans if you run at Le Mans.