Fisichella says he is lacking confidence
| | |
| --- | --- |
| By Edd Straw and Jonathan Noble | Saturday, September 26th 2009, 16:26 GMT |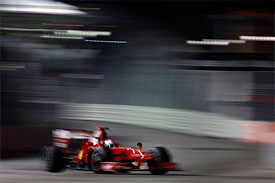 Giancarlo Fisichella insists that he needs more running to get used to the Ferrari F60 after qualifying only 18th for the Singapore Grand Prix.
The Italian made his debut for the Scuderia at the Italian Grand Prix earlier this month after leaving Force India, but despite being hopeful that he would be more at home in the car, this weekend is still struggling for confidence.
"I'm still not 100 per cent," he said. "I can see on the data that I am still braking a little bit earlier than Kimi and I'm not as aggressive as I need to be. That's just confidence.
"I haven't had the opportunity to do a day of testing to set up the car as I want and it's not easy. I made some adjustments, but it's still not a car for my style of driving.
"I expected to be more comfortable than I was in Monza but unfortunately it wasn't like that. Probably because of the handling of the car here - the circuit is very bumpy and the walls are close to the braking points. The confidence in the car was not great."
Fisichella said that the handling of the Ferrari is completely different compared to the Force India VJM/02, and that running with a KERS system adds an extra challenge.
"The car is completely different, the handling is completely different compared to the Force India," said Fisichella. "I'm losing two or three tenths in concentration just because before the braking point I am thinking 'this is a Ferrari not a Force India'.
"Because of the KERS there is a different behaviour in braking, I need to downshift the gears much later - it's different. I need time and this was not the best place to improve my feeling. Let's do the race tomorrow and just improve."
Fisichella added that F1 needs to look at revising its testing rules to allow drivers, such as himself, switching teams to adapt to new cars and for newcomers to get some track time.
"I'm not saying have testing every week like last year," said Fisichella. "But you need every two races one test especially for the new guy when they jump in a new car like in my case or Jaime Alguersuari."
The Italian was reprimanded by the race stewards for having blocked Force India's Adrian Sutil.