Drayson commits to 2010 ALMS
| | |
| --- | --- |
| By Simon Strang and Matt Beer | Friday, September 25th 2009, 20:22 GMT |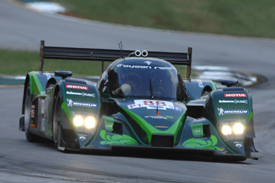 Paul Drayson says the American Le Mans Series' push towards environmentally friendly racing was the main reason he has committed his team to the full 2010 season with its new Lola-Judd LMP1 car.
Drayson Racing took its GT2 Aston Martin to Europe for the Le Mans Series for most of 2009, but the team is giving its new Lola its debut at this weekend's Petit Le Mans and announced today that the car would compete in America next season.
"We've decided to do the full series because the ALMS is focusing on green racing," Drayson told AUTOSPORT. "That's what drew me to America in the first place, and I've been very impressed with the vision and commitment to making sportscar racing as relevant as possible.
"We've got to show that motorsport can deliver technical innovations and change the perceptions of going green - making it cool and exciting. The ALMS is really showing the way forward. We want to try new fuels, energy recovery, different battery technology, and all of these things are now possible in LMP1.
"But it's all about doing it while being focused on competitive racing. We never want to use any of this 'going green' stuff as an excuse for poor performance. This is racing, it's about trying to win. We think we've got a great package to do this."
Drayson will continue to share the car with regular team-mate Jonny Cocker next year, and is interested in retaining Rob Bell as third driver for the longer races. The double LMS GT2 champion has joined Drayson and Cocker for the Petit Le Mans.
"He's really settled into it. I love working with Rob," said Drayson, who also confirmed that the line-up would definitely be all-British. "We haven't decided on a third driver for next year, but certainly it's very impressive the way he's just come into it."
The owner/driver added that he was finding the transition from GT2 to LMP1 machinery an eye-opening experience so far.
"It does blow your mind," Drayson admitted. "You have to completely re-calibrate your expectations because everything happens so much faster, but the faster you go in the car, the more stable it gets. That's really counter-intuitive after GT driving."