Sarrazin pips McNish in final session
| | |
| --- | --- |
| By Matt Beer | Friday, September 25th 2009, 14:06 GMT |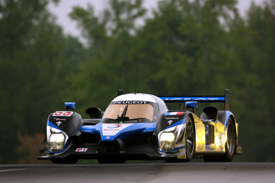 Stephane Sarrazin kept Peugeot in front in the final free practice session ahead of Petit Le Mans qualifying, but Allan McNish produced Audi's best performance of the weekend so far in second.
After Peugeot had been first and second in all three of yesterday's session, McNish raised hopes of a strong Audi challenge by grabbing the top spot in the middle of the hour and setting the fastest time all week in the process.
Sarrazin eventually got the #08 Peugeot down to a 1m07.678s to beat McNish by 0.162s, with the second Peugeot only a further 0.014s back.
The De Ferran Acura beat the #1 Audi to fourth place, and was the only LMP1 Acura on track as Highcroft got on with the task of building up a new car after Scott Sharp's ferocious crash yesterday afternoon.
The #20 Dyson Lola-Mazda finally racked up some miles following its earlier engine problems, and set the fastest LMP2 time ahead of the Fernandez Acura and the Cytosport Porsche.
Rahal Letterman's BMWs were one-two again in GT2, despite Joey Hand spinning into the gravel late on. That caused the second red flag of the morning, the first having come out when Dominic Cicero beached the Falken Porsche.
Pos  Drivers                          Cl   Car             Time
 1.  Sarrazin/Montagny                P1   Peugeot         1m07.678s
 2.  Capello/McNish                   P1   Audi            1m07.840s
 3.  Minassian/Lamy                   P1   Peugeot         1m07.854s
 4.  de Ferran/Pagenaud/Dixon         P1   Acura           1m08.626s
 5.  Luhr/Werner                      P1   Audi            1m08.864s
 6.  Panis/Lapierre/Dumas             P1   ORECA           1m09.847s
 7.  Field/Field                      P1   Lola            1m10.139s
 8.  Drayson/Cocker/Bell              P1   Lola            1m10.876s
 9.  Leitzinger/Franchitti/Devlin     P2   Lola-Mazda      1m11.287s
10.  Fernandez/Diaz                   P2   Acura           1m11.429s
11.  Pickett/Graf/Maassen             P2   Porsche         1m11.456s
12.  Van der Steur/Pecorari/Pecorari  P2   Radical         1m15.911s
13.  Muller/Milner/Muller             GT2  BMW             1m20.393s
14.  Hand/Auberlen/Priaulx            GT2  BMW             1m20.463s
15.  Melo/Kaffer/Salo                 GT2  Ferrari         1m20.583s
16.  Henzler/Werner                   GT2  Porsche         1m20.670s
17.  Magnussen/O'Connell/Garcia       GT2  Corvette        1m20.877s
18.  Sutherland/Drissi/Bell           GT2  Riley Corvette  1m20.943s
19.  Murry/Robertson/Robertson        GT2  Doran Ford      1m21.155s
20.  Bergmeister/Long/Lieb            GT2  Porsche         1m21.272s
21.  Farnbacher/James                 GT2  Panoz           1m21.319s
22.  Beretta/Gavin/Fassler            GT2  Corvette        1m21.370s
23.  Law/van Overbeek/Neiman          GT2  Porsche         1m21.449s
24.  Sellers/Cicero                   GT2  Porsche         1m22.588s
25.  Feinberg/Hall                    GT2  Dodge           1m22.846s
26.  Burgess/McMurry/Willman          P1   Lola            1m36.816s