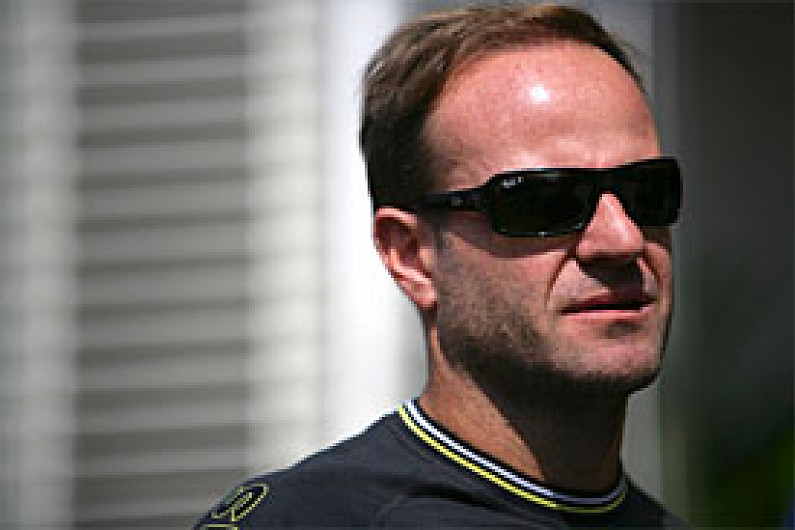 Q. The battle for the title now commences. You have four races and you are 14 points behind your team-mate Jenson Button. How do you approach these final races?
Rubens Barrichello: Like any other time really. Some time ago I was 26 points behind. My championship was starting then and I said as a turning point I have to win a race and I did. Then I won another one, which was fantastic. So I have to try and do that again, and keep my feet on the ground.
I am thinking about the race itself, thinking about the win and trying to take some points out of Jenson Button. That is all I can do. If I started to think too big then that could be a bad thing. I am feet on the ground, working as hard as I can, working on my car to perform well with me on board - and just wishing for the very best.
Q. Is it better to be the guy chasing, or better to the one being hunted down?
RB: You know, I've been on both sides in my whole career. And honestly, I like to be the guy who is chasing. But I don't dislike the fact that if I had a 14 points lead then you have the advantage, so it is not a bad thing either. The attitude is what you think of the mental approach to it - but to be in front is always more of a relief than to be behind.
Q. The last couple of races you have had a potential gearbox problem. What are you hearing from your engineers about the situation?
RB: Well, the gearbox has been going through some dyno tests and some over-torque situations - with cracks here and there. It is going at the moment still, and I understand that it has finished the race in Singapore on the dyno. So we are waiting for some news from England, and hopefully it will be fine. At the moment it is fingers crossed. We know that we do have a potential problem there and it might have to change sometime - I just hope it is not here.
Q. You've got some upgrades for this race, both you and your team-mate. What have you got and what difference will they make?
RB: They are all aerodynamic and they look very good on the paper. This year every time the team brought something on the paper it was good on the track as well, so I hope this continues. I am looking forward to that.
Last year we had a terrible race here in the way that we did not have a competitive car. So I am very much looking forward to driving this car on this track with the evolutions. So it is really looking forward.
Q. There is a big respect between you and Jenson, but tensions are likely to increase as you fight for the championship. What is the best way to manage that?
RB: I don't know. For me I am doing my work as open as I can - the same way it has been in the past. There is not going to be a change. I think it is fairly clear that we are both commanded to do the best strategy possible for the team, and whoever is the best will win the race and the championship. I am happy with that. Nowadays, it would be impossible to try and do something that your team-mate doesn't know. With all the telemetry, with all the conversations, it is going to be impossible to do that. It is fairly open and I am quite happy with that.
Q. The season really kicked off for you at Silverstone when you made a change to the braking system. Can you talk a little about that?
RB: I did change the material and I was happy with the brakes, but those brakes were far too hot on the rear. I was having a penalty with the downforce of the car and I could not run the wheel covers. So for that race I changed it, and it became better.
It is funny because of the last three years, we had different brakes and I didn't have any problems - and in fact my brakes were cooler. But there was an evolution on the car. It is different and it suited better the brakes that Jenson had. Then I had to get used to them - which was fine. It wasn't such a difference, but it was great for me to have the same amount of downforce on the car.
Q. Do you enjoy the Singapore circuit, and what are the challenges?
RB: Well, it is a challenge as you said. I was always told by my father to go to bed very early because I had to be a racing driver and I really had to concentrate on myself. And here, I have to wait until four o'clock in the morning to go to bed, which is amazing. It is just a different philosophy altogether. Having said that, the track last year was quite bumpy. Walking on the circuit today, it seems that it is okay and seems to be better. Some of the corners and some of the kerbing have been changed slightly. There is not a lot of overtaking, so it is crucial to put the car on pole position.
Q. Your battle with Jenson at the moment has been compared to that of Senna vs Prost in 1988 and 1989.
RB: Well, those - they were giants. I think it is very difficult for us. We may be considered to be good in ten years' time or 20 years' time when someone talks about us, but right now we are two human beings - very good behind the wheel, fighting for one championship and with a healthy fight and a good one. For the spectators it looks quite good, and from the desire point of view for both us it looks good.
Q. So you are feeling confident for this weekend?
RB: I am on a high. Coming from Monza, I've been back to Brazil and they are over the moon as well. There is a big push for them. I just keep my feet on the ground. I want to do as well as I can on a race track that I enjoy very much - and did enjoy last year. And hopefully I can win the race.
Q. Is this the closest you've come to the championship in your career?
RB: Yes it is. Especially because it is on equal terms. I've been there before and in situations that you never knew if the team would allow you to do this or that. But now I feel good. I feel that the team has given both drivers the same option, which is to win and push. I am really happy with that.
Q. We started the season with a lot more Brazilian drivers and for various reasons two are not here now. You are very patriotic. How do you carry that in your mind?
RB: From all that I can, I would love to bring the Brazilian flag to the very top again. It has been tough with Jenson winning the six races at the beginning of the year, and not me. With all the pressure and everything, I've shown that experience helps in that manner. If you have a good mind-management and everything, then you can count for it. I won the races, and that really did help and pump Brazil up. They don't have to keep their feet on the ground, because it is like World Cup soccer - they are very enthusiastic about it. I have to keep it calm, breathe and try to do my best. I would love to take the Brazilian flag home.
Q. What is your opinion on the Renault race-fix controversy?
RB: Well, I'm disappointed. I'm really disappointed. I never thought that something like that could happen. When I made my assumptions, I always said that I hoped that it did not happen. All I all I am very disappointed with the things. My engineers just showed me in a magazine all the traces of his acceleration, so it was provoked the spin. I remember last year we were here, and there were rumours that it was done for Fernando to win, but I could not believe it.
When people try to compare that event to Austria [2002], they are not comparing it very well. In Austria I did lose one position and that was myself. I lost it, and with that whole thing going on a lot of people lost it. Especially with the rules of the safety car last year - I think everyone lost in it now.
Q. What do you think about the FIA punishment?
RB: That is a tough thing. I cannot think of myself as being a chief and deciding what penalty I should give to a guy that did this or not. I don't really want to be in that seat, because it is a tough call. I think it has been a sad event anyway, and we need to forget about it.
Q. What is your reaction to the future of compatriot Nelson Piquet?
RB: The whole thing was a bit of a shock. To be very honest, I've always said one thing - which is that you are only as good as your last race. With new teams coming on board, needing someone with possibly some money and experience, he may be wanted to drive in F1. If you win a race, then everything else will be forgotten so there is a chance of him racing again in F1.
New season.
New rules.
New cars.
New drivers.
Get ready for an F1 season like no other with unlimited access to the world's best motorsport journalism.
Get 10 free extra stories
Upgrade for free - and boost your monthly news limit instantly.
Register for free
Expert opinion.
Technical insight.
Unbeatable analysis.