Hirvonen upbeat after massive test
| | |
| --- | --- |
| By David Evans | Friday, September 25th 2009, 11:49 GMT |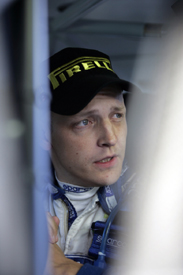 Ford's Mikko Hirvonen has completed his most intensive pre-event test ever in an effort to maintain his lead in the World Rally Championship on next week's Catalunya Rally.
Hirvonen drove the test Focus RS WRC for 217 miles in one day of testing last week - the same mileage he will tackle across three days of competition on the penultimate round of this year's WRC.
The Finn's monster day of testing was just a sixth of the total test time undertaken by the Ford team. Five-time world rally winner Markko Martin started the session last week, completing two days in the test Focus, before handing the car over to Hirvonen. Jari-Matti Latvala completed the running earlier this week, with his two days in the car. In total, Ford racked up more than 900 miles of running.
Even before they stepped aboard the test car, Hirvonen and Latvala had both gone through tuition from asphalt driving experts; Hirvonen drove with former European Touring Car champion Rob Wilson in Britain while Latvala was given a guiding hand from ex-Finnish touring car champion Olli Haapalainen.
"Preparations have gone well," said Hirvonen. "I did some coaching with Rob Wilson in the UK to focus again on asphalt driving. It's something I've done for the past three years before asphalt rallies.
"Then my test went well and hopefully I picked up something extra that will add to the experience from previous years. The car felt very good so I'll wait to see how that transfers to the rally roads. On just one day I completed 350km, and that's the same distance as the entire three-day rally in Spain."
Hirvonen takes a five-point lead into next week's Catalunya Rally, but he knows he will face a big fight to continue a four-rally winning run. Citroen men Sebastien Loeb and Dani Sordo have finished first and second in Spain for the last three years and Loeb - Hirvonen's only title threat - has won the event for the last four years.
"I'm not feeling under pressure," Hirvonen insisted. "It's just really exciting. I have a chance to win the title but I'm keeping my feet firmly on the ground.
"I have no expectations at all and that way I've taken the pressure away, I've put it to one side. I've had a good feeling for the last five events and I've proved things to myself that I needed to."