New Jaguar GT2 contender unveiled
| | |
| --- | --- |
| By Simon Strang | Thursday, September 24th 2009, 19:14 GMT |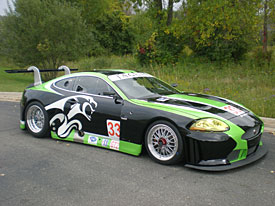 RSR has unveiled its factory-supported Jaguar XKR GT2 contender, which it intends to enter in the 2010 American Le Mans Series and, potentially the Le Mans 24 Hours, with a two-car team.
Built by Paul Gentilozzi's rebranded RSR team in conjunction with Jaguar Engineering, the all-aluminium XKR GT2 chassis was expected to make its race debut at this weekend's Petit Le Mans event at Road Atlanta.
But the team decided to reschedule the its first race for the final ALMS round at Laguna Seca in mid-October, while it continued to develop the XKR's electronic system, and instead publicly unveiled the car at Atlanta.
Gentilozzi, who will drive the car alongside Marc Goossens and Scott Pruett, admitted that the car - powered by a five-litre V8, direct-injected engine - has yet to turn a wheel in testing, but that he was confident his team had got its sums correct.
"This has a great engine and it is set back and the car is all aluminium," he told AUTOSPORT. "Structurally it has a transaxle and a fuel cell weighted behind the driver so the weight distribution is near-perfect in our minds.
"We still have a lot of answers to find. We have done about 800 hours of CFD, and really Jaguar Engineering did all that. They did a fantastic job. We probably got a little carried away with too much CFD, as we were building the car, but it was important that it looked like the production car, but it had to be a good race car and that was a difficult balance to strike."
Gentilozzi added that he expected the car to be competitive against the GT2 category's established benchmark Ferraris and Porsches.
"Every race we go to we expect to win," he said "We have a lot history. We have won the 24 Hours of Daytona twice, we have won Sebring, so we have a great endurance pedigree and we are going to apply that and try to win every race we can.
"Right now we are developing a [Yokohama] tyre and a car together. We have raced against Pratt and Miller, for example for ten years in TransAm, we know their abilities and they know ours. We know we can compete.
"The people on my team all came from my Champ Car programme, so they are experienced successful guys that have a high level of professionalism. We are not worried about that, right now we just need to sort things."
ALMS president Scott Atherton welcomed the return of Jaguar in works capacity to the series: "When you think of Jaguar as brand, the chances are you automatically connect it with sportscar racing. Success in Le mans, World Endurance Championships, IMSA GTP, the list is long.
"Lately there have been some other brands that have established that same credibility and that same link. I think we all agree that today marks the beginning of rekindling this famous brand with the form of motor racing that it should belong to.
"It's great to have them back."