Donington handed extended deadline
| | |
| --- | --- |
| By Jonathan Noble | Thursday, September 24th 2009, 08:28 GMT |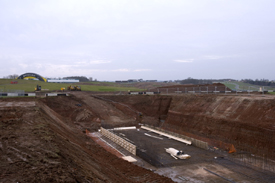 Donington Park chiefs have been given until the end of next week to get their British Grand Prix plans in order, after Bernie Ecclestone agreed to extend an original deadline he had laid down for the track.
Ecclestone told circuit chiefs last month that they had until the end of September to prove they had the funding in place to keep hold of the race, but he has now handed them a few extra days to sort things out.
Speaking during a media event with F1 partner LG Electronics in Singapore on Thursday, Ecclestone said he was no nearer being able to say for sure that the race would go ahead as planned.
"I honestly don't know. I hope so, but I don't know," he said about his predictions for what will happen at Donington Park. "Their problem is a financial one - it is them getting the money together. Everything was done and ready, and when this [financial] crisis arrived the banks pulled the plug on them."
Ecclestone said that the track had only a few more days to sort the situation out, with Silverstone still waiting in the wings to step in if Donington Park cannot press on with its redevelopment.
"It [the deadline] was the end of September, but I think we may extend it a bit," he said. "By two or three days. I think we have given them until October 3."
Ecclestone also dismissed talk that if the event reverts to Silverstone it will be called the 'European' Grand Prix.
"It's in England? It will be the British GP," he said. "Why would you want to call it the European GP? People talk about the British GP having been at Silverstone for 100 years, so why should we change it?"
Ecclestone also revealed that he was still working on plans to get the United States Grand Prix back on the calendar, with his preferred option being an event in New York.
"We are getting there. All in different places, we will see which one comes first," he said.
When asked which venue was top of his list, he said: "Obviously Manhattan. I will tell when it happens if I can do it or not. We were told we couldn't do a race in Singapore."