Ferrari 'still pondering' driver choice
| | |
| --- | --- |
| By Michele Lostia and Matt Beer | Wednesday, September 23rd 2009, 14:54 GMT |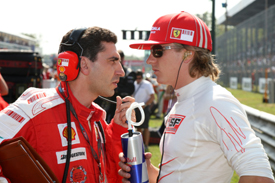 Ferrari president Luca di Montezemolo says the team has yet to decide whether to retain Kimi Raikkonen for next season or replace him with Fernando Alonso.
But he reiterated that there were no doubts about Felipe Massa returning to the line-up as soon as he had recovered from the head injuries sustained in Hungarian Grand Prix qualifying.
Alonso has long been linked with a switch to Ferrari, with di Montezemolo openly admitting at Monza that the team was interested in hiring the double world champion at some point in the future.
Although Raikkonen's current contract runs through 2010, Ferrari has so far declined to confirm whether he will still be in the car next season, amid suggestions that he could return to McLaren or join Brawn to make way for Alonso, whose future at Renault has come under fresh doubt amid the recent Singapore crash scandal.
Di Montezemolo told reporters at an event in Florence today that Ferrari was considering a straight choice between Alonso and Raikkonen as Massa's 2010 team-mate.
"A Spanish or a Finnish driver? We'll take some decisions within a few weeks," he was quoted as saying by La Stampa.
"What's certain is that we'll have a Brazilian driver who deserves another chance, because thank God he is fine now. As for the rest, we are pondering over the best choice."
While Raikkonen suffered a slump in performance after clinching the world championship with Ferrari in 2007, in recent weeks he has shown better form - taking podium finishes in the last four grands prix, including a victory in Belgium, and out-scoring all his rivals between the Hungarian and Italian GPs.