Martin beats Montoya to Loudon win
| | |
| --- | --- |
| By Diego Mejia | Sunday, September 20th 2009, 21:37 GMT |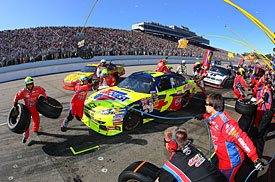 Mark Martin claimed his fifth win of the season and continued to lead the Chase for the Sprint Cup after holding off Juan Pablo Montoya in the final restart at Loudon.
The Hendrick driver ran out of sequence with the leaders shortly after halfway through, when he stayed out as most of the frontrunners pitted. Moving up to second place, he then claimed the lead from Kurt Busch, and once the final round of stops cycled through he emerged up front.
The 50-year-old veteran looked on his way to an uncontested win but a series of cautions in the closing laps made him work hard for his win. Montoya moved up from fifth to second on the penultimate restart and lined up beside him for the final sprint when the green flag waved for the final four laps.
The pair fought it out hard for a couple of laps, but Martin put all his experience to good use to fend off the challenge from the Colombian, who led the most laps after starting from pole.
The race eventually finished under caution when AJ Allmendinger got spun on the second-last lap, with Martin taking his first career win at Loudon, stretching his lead in the championship.
Behind Martin Denny Hamlin finished second, although he crossed the line behind Montoya. However the order was reverted as the caution came out when Hamlin was ahead of the Ganassi driver, as the pair battled side-by-side for the runner-up spot in the last two laps.
The Joe Gibbs Racing driver ran up front for the majority of the race, enjoying some good battles for the lead with Montoya. His runner-up finish moved him up to third place in the standings.
Montoya was dominant in the early going, looking unbeatable at the beginning of the runs. His team ran a different sequence halfway through the race trying to prevent an extra stop but he eventually ended up pitting for the last time under green.
On his last pitstop he changed four tyres compared to Hamlin's two and had to recover the ground he lost in the closing stages. On the penultimate restart, he came from fifth to second in just two laps and then had a shot at beating Martin when another caution came out. His third place allowed him to move up to fourth in the Chase.
Reigning champion Jimmie Johnson finished fourth and is second in the Chase, 35 points behind Martin. He wasn't a contender for the win but still had a solid run to start his title defence in style.
Tony Stewart, who had led the championship for the past 13 weeks, suffered a mechanical issue with the left rear wheel in the first half of the race, apparently caused by contact with Denny Hamlin in the early going. He managed to finish 14th dropping down to sixth in the championship.
Pos  Driver             Car        Laps
 1.  Mark Martin        Chevrolet  300
 2.  Juan Montoya       Chevrolet  300
 3.  Denny Hamlin       Toyota     300
 4.  Jimmie Johnson     Chevrolet  300
 5.  Kyle Busch         Toyota     300
 6.  Kurt Busch         Dodge      300
 7.  Ryan Newman        Chevrolet  300
 8.  Elliott Sadler     Dodge      300
 9.  Greg Biffle        Ford       300
10.  Clint Bowyer       Chevrolet  300
11.  Brian Vickers      Toyota     300
12.  David Reutimann    Toyota     300
13.  Casey Mears        Chevrolet  300
14.  Tony Stewart       Chevrolet  300
15.  Jeff Gordon        Chevrolet  300
16.  Carl Edwards       Ford       300
17.  Jeff Burton        Chevrolet  300
18.  Marcos Ambrose     Toyota     300
19.  Jamie McMurray     Ford       300
20.  Martin Truex Jr    Chevrolet  300
21.  Joey Logano        Toyota     300
22.  Bobby Labonte      Chevrolet  300
23.  Matt Kenseth       Ford       300
24.  Robby Gordon       Toyota     300
25.  AJ Allmendinger    Dodge      300
26.  John Andretti      Chevrolet  300
27.  Michael Waltrip    Toyota     298
28.  David Stremme      Dodge      298
29.  Aric Almirola      Dodge      297
30.  Erik Darnell       Ford       297
31.  Scott Speed        Toyota     297
32.  Kevin Harvick      Chevrolet  295
33.  David Ragan        Ford       287
34.  Paul Menard        Ford       287
35.  Dale Earnhardt Jr  Chevrolet  283
36.  Reed Sorenson      Dodge      263
37.  Sam Hornish Jr     Dodge      162
38.  Kasey Kahne        Dodge      66
39.  Mike Wallace       Toyota     48
40.  Joe Nemechek       Toyota     41
41.  Michael McDowell   Toyota     36
42.  Dave Blaney        Toyota     23
43.  Tony Raines        Dodge      8


Chase For The Cup - Points Standings:

Pos  Driver              Change  Points
 1.  Mark Martin           --     5230
 2.  Jimmie Johnson        +1     5195  + 35
 3.  Denny Hamlin          +1     5195  + 35
 4.  Juan Montoya          +7     5175  + 55
 5.  Kurt Busch            +2     5165  + 65
 6.  Tony Stewart          -4     5156  + 74
 7.  Ryan Newman           +3     5151  + 79
 8.  Brian Vickers                5140  + 90
 9.  Greg Biffle           +3     5138  + 92
10.  Jeff Gordon           -4     5128  +102
11.  Carl Edwards          -2     5117  +113
12.  Kasey Kahne           -7     5069  +161