Tarquini extends lead with home win
| | |
| --- | --- |
| By Steven English | Sunday, September 20th 2009, 11:58 GMT |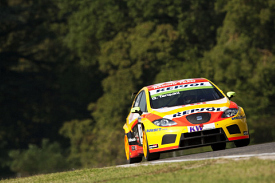 Gabriele Tarquini extended his lead in the World Touring Car Championship with his third victory of the season at Imola on Sunday.
The Italian led his home race from start to finish, keeping SEAT team-mate and reigning champion Yvan Muller at bay at the start and through two subsequent safety car restarts.
While it was relatively calm for Tarquini up front, it was a hectic half hour for almost everyone else.
A first corner accident wiped out several of the front runners, including BMW's title hope, Augusto Farfus. Jordi Gene triggered the incident when he tapped Rob Huff's Chevrolet under braking for Tamburello. As Huff battled to keep control of his Chevrolet Cruze, he slithered across the track where he made contact with the front of Rickard Rydell's Leon.
Rydell then clipped Gene, who was spun across the front of the pack, and the Swede then hit Farfus. Jorg Muller and Tiago Monteiro was also caught up in it, though all but Monteiro were able to return to the pits and rejoin the race later.
That left Tarquini and Yvan Muller out front, under pressure from Huff, with Alex Zanardi fourth and Tom Coronel fifth, and a queue of cars quickly formed behind James Thompson's sixth-placed Lada.
Andy Priaulx moved to take Nicola Larini for 10th at the Villeneuve chicane on lap four, when the Italian's Chevrolet seemed to explode under braking. He went straight on into the gravel with smoke pouring out of the car, and extracted himself sharply from the cockpit as flames licked into the cockpit.
There was plenty of drama still to come, as Stefano D'Aste tried to take sixth from Thompson. He out-braked the Lada around the outside for Tamburello but ran wide and bounced over the kerb and across the gravel. He squeezed Alain Menu to the edge of the track when he rejoin and his BMW was tipped into a spin as the pair made contact.
Menu was in the thick of things just one lap later when he tried to regain some of the ground he'd lost. He passed Jaap van Lagen's Lada and Kristian Poulsen tagged the Dutchman into a spin as he returned to the racing line, and the Lada flipped into a barrel-roll after hitting the wall at Tamburello, causing the second safety car. Poulsen then tried to rejoin the pack but was tapped into a spin by team-mate Franz Engstler.
It was easy going for Tarquini up front from there, while behind Andy Priaulx dropped out of contention for eight place and pole for race two. He was challenged by Alain Menu and the two appeared to make contact before Priaulx veered sideways into the gravel. He struggled on with a damage car, flying off the road again at Minerale and Rivazza, and eventually finished 13th.
The avoiding action taken by Alex Zanardi, Tom Coronel and James Thompson earned them fourth to sixth places respectively, while Sergio Hernandez and Menu will form the front row for race two after finishing seventh and eighth. Felix Porteiro was Coronel's nearest independents' class rival in ninth.
Pos  Driver             Car          Time/Gap
 1.  Gabriele Tarquini  SEAT       29m31.701s
 2.  Yvan Muller        SEAT         + 0.409s
 3.  Robert Huff        Chevrolet    + 0.842s
 4.  Alex Zanardi       BMW          + 1.457s
 5.  Tom Coronel        SEAT         + 3.501s
 6.  James Thompson     Lada         + 5.620s
 7.  Sergio Hernandez   BMW          + 6.002s
 8.  Alain Menu         Chevrolet    + 6.390s
 9.  Felix Porteiro     BMW         + 10.004s
10.  Tom Boardman       SEAT        + 10.346s
11.  Franz Engstler     BMW         + 10.819s
12.  Stefano D'Aste     BMW         + 11.793s
13.  Mehdi Bennani      SEAT        + 12.329s
14.  Kirill Ladygin     Lada        + 13.424s
15.  Andy Priaulx       BMW         + 13.766s
16.  Kristian Poulsen   BMW         + 15.321s
17.  Fabio Fabiani      BMW         + 22.432s

Retirements:

     Jaap van Lagen     Lada       8 laps
     Andrea Larini      SEAT       7 laps
     Jordi Gene         SEAT       7 laps
     Jorg Muller        BMW        5 laps
     Rickard Rydell     SEAT       5 laps
     Augusto Farfus     BMW        4 laps
     Nicola Larini      Chevrolet  3 laps
     Tiago Monteiro     SEAT       0 laps