Johnson: Martin will be a title threat
| | |
| --- | --- |
| By Diego Mejia | Saturday, September 19th 2009, 19:58 GMT |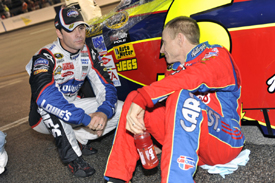 Reigning NASCAR Sprint Cup Series champion Jimmie Johnson expects his Hendrick team-mate Mark Martin to be a strong challenger for this year's title as the battle starts to unfold on Sunday at Loudon.
The three-time champion is looking for an unprecedented fourth consecutive title this season, but two of his three team-mates will be among his competitors. Johnson says Martin's experience and the speed he has shown this year make him one of the main obstacles between him and a fourth championship in a row.
"He's going to be very strong," said Johnson. "He has shown strong leadership in the team, really developed the cars and got them up to speed and built a lot of confidence in that #5 car shop. He knows what he's doing. He's got a tonne of experience and he's going to do a great job."
Despite having two of his team-mates in the fight for the championship, Johnson does not see that as a disadvantage. Some drivers like Denny Hamlin are the lone representatives for their teams in the Chase and their team-mates can provide unconditional support to their title aspirations on the track.
"I've been in a situation where I've had team-mates in [the Chase] and not in," said Johnson. "Either way, business was still the same and still did the same things and still worked in the same fashion we always have.
"For the company's sake I'd like to see all my team-mates there with the most chances possible to win for Hendrick Motorsports. If I can't win, I'd like my team-mates to."
The Californian has won three races this year, only one less than team-mate Martin. He believes he will need to take more victories during the final ten races in order to fight for the title, as he believes consistency has not been enough in recent years to contend for the Cup in the final race of the year.
"I think you'll have to win in order to win the championship," said Johnson. "I could be wrong but I think most years you're going to have to win in order to be the champion. I don't think the teams are going to risk things to win, but if you run consistently in the top three, top five, you're going to win."
Johnson starts the Chase for the Sprint Cup from third place in the standings at Loudon on Sunday, where he will see the chequered flag wave from the eighth row of the grid.